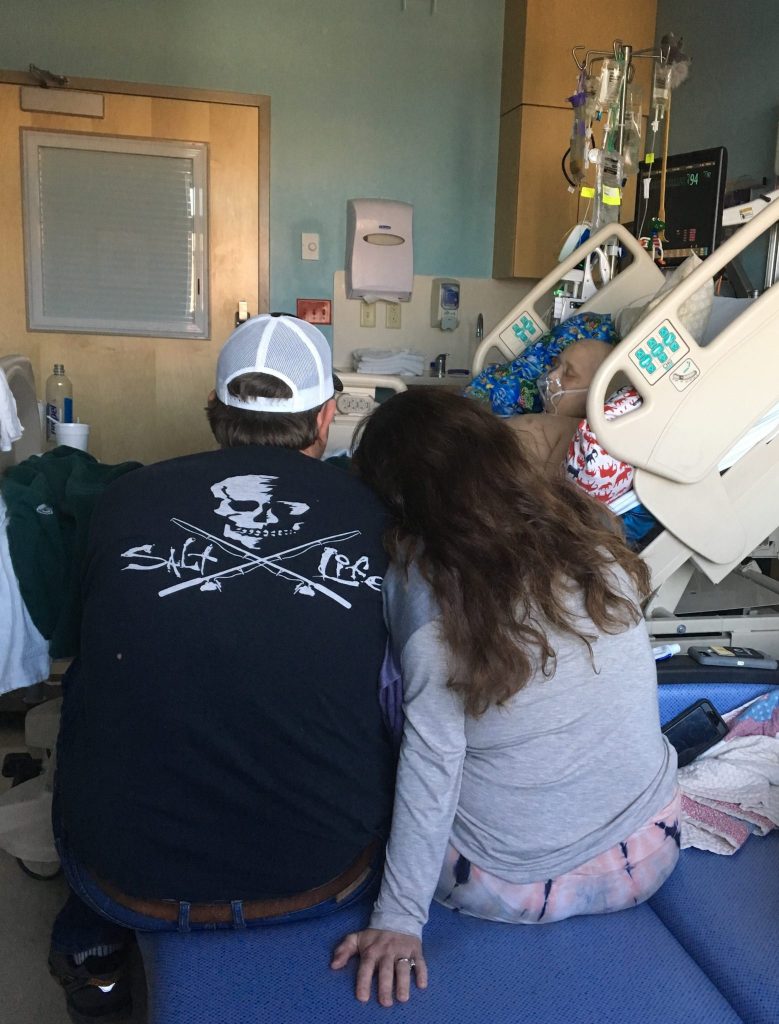 Energy can neither be created nor destroyed. ~First Law of Thermodynamics
Benjamin, our brave, sparkly child, is dying.
I realized today that I never actually believed this would happen. Not when Benjamin was diagnosed, not when we discovered his genetic predisposition, not when he relapsed, not when any of his multiple attempts at treatment failed, not even this morning when steroids seemed to be working. Today his energy shifted. It left us with no doubt as to what we must do next. It will be the hardest thing. The impossible thing. The ache is unbelievable. But we owe it to our boy to be as brave as he has been.
This morning, we joyfully returned to 7 South. Benjamin's night in the PICU was pleasant and uneventful, which means we didn't quite meet their standards (the feeling was mutual). I never thought I'd be so happy to be admitted to this floor. His lab work showed only a slight increase in white blood cells, but 91% of them were leukemic. It also showed that neither the platelets nor packed red blood cells that were transfused last night lasted at all. He would receive repeat transfusions of both today, back in our home on the seventh floor.
Moving to and from Intensive Care was exhausting. When we were safely settled, Benjamin fell into a deep sleep. He has been complaining of pain in his abdomen for the past few days, but this morning his whole body was aching. The veins in his hands were glowing through his skin. I watched his breathing. I can't wait to go to the beach with you again, I said. I wanted to fill his mind with peaceful images. I let the tears fall quietly. Benjamin was so, so tired. It was a new kind of tired.
Sarah came to sit with us today. The pain team walked in shortly after she did, and recommended increasing Benjamin's Dilaudid dose on his PCA again. We both noticed after the change that Benjamin seemed a little more out of it than usual, and we requested that the old dose be restored. It was a better fit for him. He pressed his pain button so many times today. Each time he pressed it, I felt a little relief as well.
Michael took Banyan to school and went to the office briefly, then spent the day here with his boy. He was here when Dr. Wishnew, Dr. Oshrine, and Shari came in to check on their patient. We listened as they told us that they didn't feel the PD1 inhibitor would be an option. They said we didn't have to make any decisions right then, as the steroids seemed to be buying time. But if Benjamin's condition worsened, they wanted us to prepare to either return to the PICU, or to remain on the seventh floor and agree to a Do Not Resuscitate order.
Even then, I didn't feel the energy shift entirely yet. Michael and I were firm that we didn't need to make such a decision until the steroids showed us what they could do. We calculated that between their long half life and the nadir periods of the chemotherapy medicines Benjamin just finished, we would know how well things were working by the weekend. The answer would come much sooner.
A thorough set of labs was drawn to analyze Benjamin's blood–a cell count, a metabolic panel, and a blood gasses screen, something we've never seen before. The results were excruciating. Benjamin's white count had quadrupled since morning. His hemoglobin dropped even after last night's transfusion, and half of his blood contained carbon dioxide.
When we combined these numbers with what we saw in the boy in front of us, things started to become more clear. Benjamin's oxygen needs continued to increase. His belly looked so uncomfortably distended. And he said, in one of his clearest and most pained sentences of the day, I wish I felt better.  
Michael and I had to talk. We went into the bathroom and closed the door. We didn't know how to decide what to do next. We didn't know what a Do Not Resuscitate order really meant, or what would happen in the PICU, or what intubation would look like. We didn't know if Benjamin would struggle for days or weeks. We needed guidance. We thought of Palliative Care, who has been so supportive and knowledgeable. We thought of Shari, who has become our friend. But we agreed that the person we really needed to see, whose voice we needed to hear, was Dr. Oshrine. Not fifteen seconds later, he walked through the door. The energy shift had happened, and it was being felt by everyone.
Michael and I left Benjamin with Sarah and our nurse and went into the same closed room as Monday with Dr. Oshrine. He was followed by Dr. Wishnew, Shari, and the Palliative Care team. On Monday, the closed room held a glimmer of hope. Today, Dr. Oshrine used the words impossible recovery. This time I could not stand up straight. I could not. We don't know how to make these decisions, I cried. Dr. Oshrine was there to guide us, and he firmly said he did not recommend intubation for Benjamin or for any of his patients for whom there was no available treatment. As he was explaining the process, Michael and I were nodding in agreement, suddenly finding the choice an easy one. I thought of Benjamin's tears last night as we went down to the PICU. The ability to stay here, in our home on the seventh floor, is a huge blessing. The decision was made.
No other changes will be implemented right now. Benjamin will stay on steroids, because they are offering him some pain relief and fever reduction. He will receive transfusions and respiratory support and infection coverage as long as we ask for these things to continue. Our questions were answered. Michael asked the team to give us a moment alone. They closed the blinds and left quietly.  I can't explain what happened when we collapsed into each other. But I will remember the sounds we made for the rest of my life.
We steadied. We stood up straight. Our work is far from over and Benjamin's happiness is our priority. We were smiling when we walked back into the room. It was time for Benjamin's weekly port reaccessing, and he exemplified his interminable Jedi force bravery as he allowed the nurses to puncture his chest with the needle. I watched him with such pride. He has done everything right. If the doctors' estimates are correct, this will be the last port access he has to endure.
We wanted Banyan with us immediately. Michael left to pick him up from a friend's house and tell him news no twelve year old should hear. They gathered enough clothes and things for the two of them to join us up here for the foreseeable future. We contacted our immediate families. I held Benjamin's hand.
The nursing staff placed a shell sticker on our window and a beverage cart outside our door. These are telltale signs I've seen before. I couldn't believe they were here for us.  Nurses came in throughout the day to give us love. One of the custodians we've known for over two years came in to clean our room, and her face was full of quiet tears. Benjamin's nurse for the last two days has been absolutely incredible. When her shift was over, she told me that Benji had the best spirit she'd ever known in a kid. Everything in me wishes this were not happening. But I am grateful it will happen here, on this floor, with these people we love to help us.
I was so happy to see Banyan's sweet, tear stained face walk through the door tonight. Michael took my place in bed next to Benji and I sat with Banyan and held him and cried. I told him how sorry I was. I want to do something, he said. You have, I told him. You have been the best big brother in the world since he was born. You make him happier than anyone on the planet. There is nothing better to do than that.  
When Benjamin was two weeks old, I went to a Mother Blessing for a dear friend. We sat in a circle and introduced ourselves by saying our names, the names of our mothers and grandmothers, and the names of our children. I had attended many such ceremonies, but this time, my introduction was different… mother to Banyan and Benjamin. I remember so clearly the feeling of pride swelling up in me at having two sons. Brothers. That feeling will never change, even if the physical shape of our family does. Energy can neither be created nor destroyed. 
We have not given up. We have not lost hope. Our hope has just transformed. We no longer hope for a cure, or a miracle. We now hope for a peaceful, happy, proud and beautiful transition for our sweet and strong son, surrounded by so much love I can hardly comprehend it. Deep breaths. You'll feel so much better soon. Your body knows what to do. It will be my highest honor and my deepest heartbreak to midwife Benjamin through this passage.