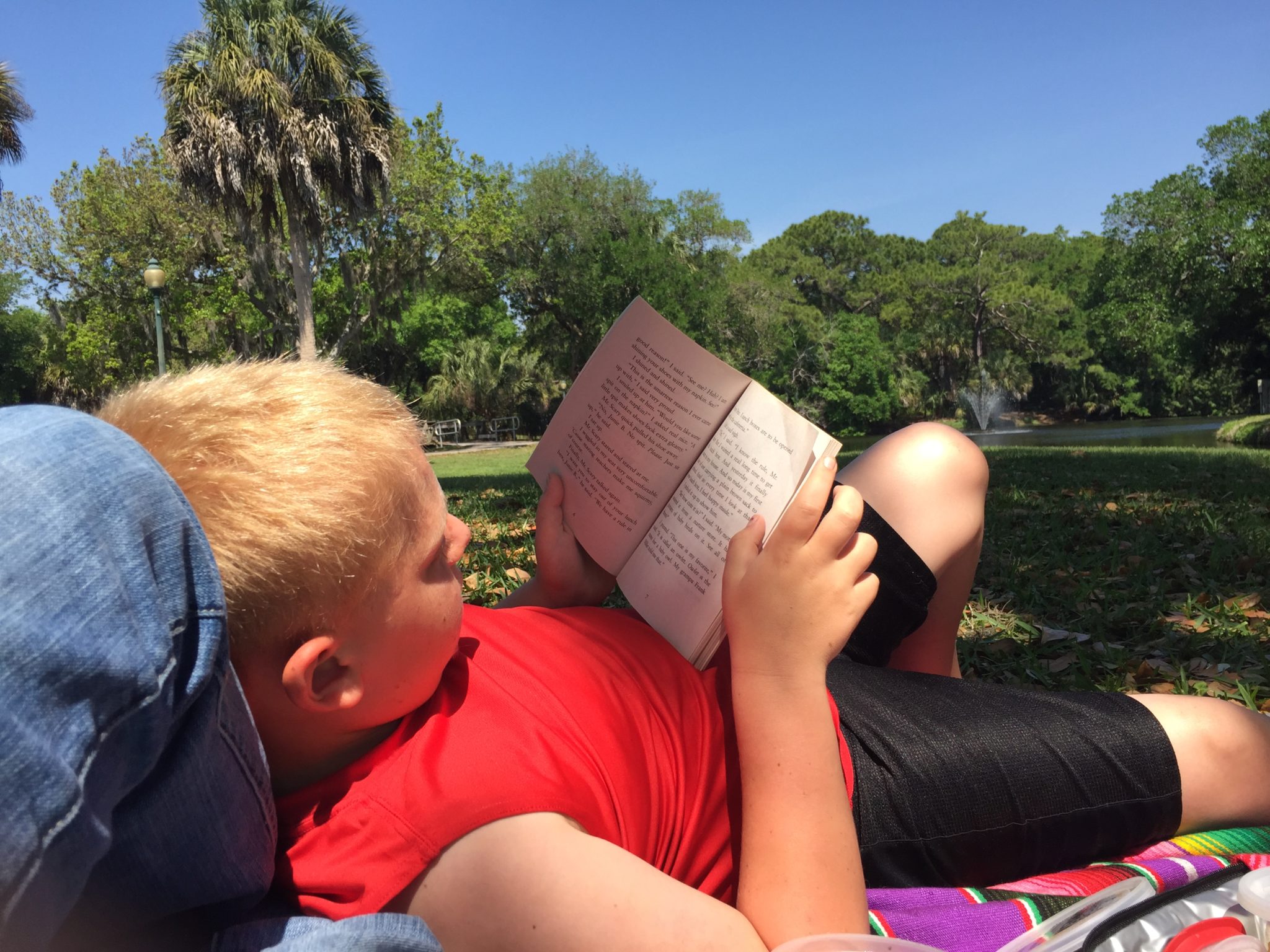 Today followed an upward trajectory right to the end. I prepare for sleep feeling much more grounded than I did yesterday.
Benjamin woke up at 5am complaining of severe knee pain. It drove him to tears. It's been a while since his last dose of Vincristine, so we were confused. Since it was only the one knee, Michael thinks perhaps he just slept on it wrong; last night was his first night back in his old bottom bunk, his choice. He couldn't get back to sleep without a hot bath. Finally, after more tears and a return to his bed in our room, he slept–a mere fifteen minutes before my alarm went off.
I made sure Banyan caught his ride to school safely, then I made an executive decision. I went back to sleep. Benji was still sleeping too, and I haven't had more than a few hours each night this week. Yesterday's shingles development opened a can of worry I've worked hard to keep closed–I became obsessed about potential sources of bacterial infection during Benji's neutropenic periods. Once again, after sleep (and aggressive antiviral medication), things began to improve.
The knee pain never returned, so schoolwork and fresh air were our focus for most of the day. We packed a picnic and went to our neighborhood park, and stayed for hours. In between reading tests and science videos and lessons on root words, we threw the baseball, and read chapters of our books quietly together. The weather was perfect. There was so much green around us. I couldn't help thinking that breathing it in would help his neutrophil count increase. It helped me too.
We were almost completely caught up on schoolwork for the quarter when Mrs. West arrived at our house today. Benji took another test with her, and filled her in on our work. He asked lots of questions about his classmates again this week. He is so excited that the HopeCam connection is almost ready so that he can communicate with his friends; he says on a daily basis now that he wants to go back to school. This breaks my heart, because I know that after next week, we'll be entering another prolonged period of severe neutropenia. He will have nearly zero immunity for the better part of April.
Right now, the boy feels amazing. He has so much energy and so much spark. When Michael got home from work tonight, we took a family bike ride to our friend's house a few blocks away, where Banyan was playing after school. We rode home together in the evening breeze. Benji was flying, pumping his strong legs as fast as he could, with a confident smile on his beautiful face. After dinner, he wanted to play his guitar with his daddy. He was so determined, despite the pain in his fingers, to get the chords just right. Such a sweet, sweet sound.