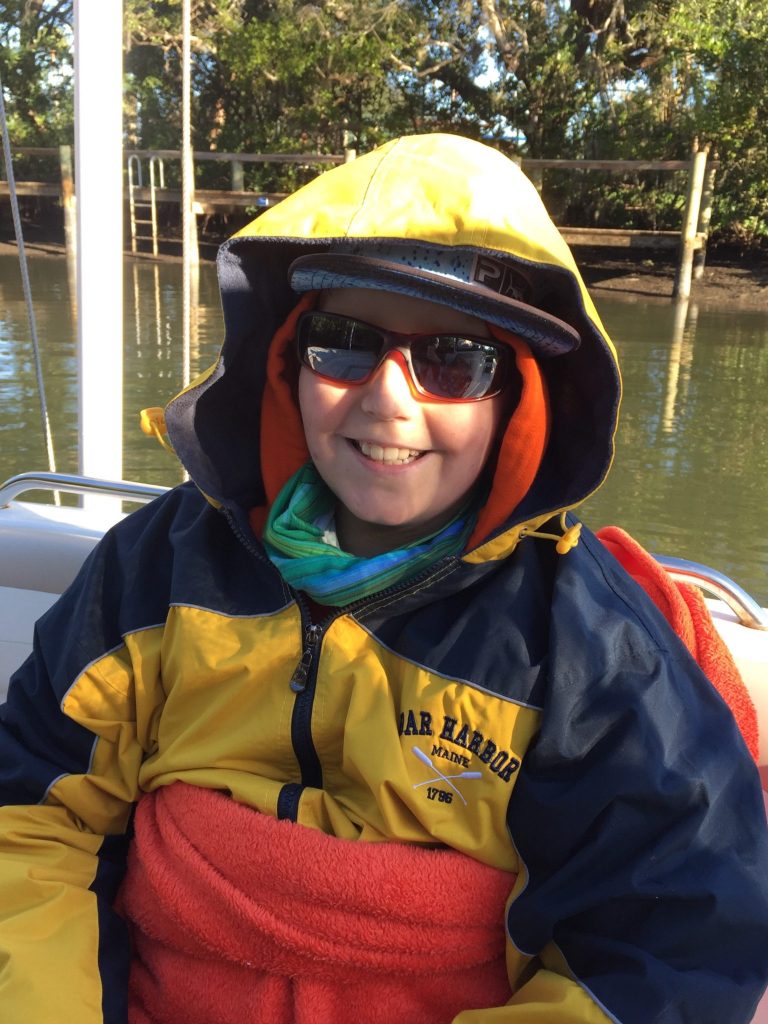 On the coldest morning of the year, by far, Benjamin begged his daddy to take him fishing. So that's what they did. We layered him up nice and snug, I kissed them goodbye, and they were off. They picked up their bait and picked up Benji's buddy and were out on the boat before most people were awake this morning. As per usual, nothing could change his mind. The boy cannot be stopped.
When the temperatures and the lack of bites had finally bested the trio, they let us know they were on their way back to land. Banyan and I drove down to Kathy's house where she and Gana had prepared a lovely brunch for us, and for the seafaring crew, who first warmed up with homemade cocoa by the fire. The whole morning was delicious, and it was so nice to feel normal enough to do such a thing again. It was clear that Benjamin was tired, and his belly was hurting him, but he had a great time.
Benji didn't slow down when we came home, either. Banyan invited a friend over as well and all four boys, plus two other neighbors, played football in the street for at least an hour. Then they came inside for a football viewing party. Finally, after all of the festivities, Benjamin came in to give me a hug, and we collapsed on our bed. He fell asleep instantly. Banyan came in and kissed his brother sweetly on the head. I felt my whole world welling up in my chest.
Tomorrow morning, we will drop Banyan off early at school, then drive over the Skyway to the clinic for the first time since Benjamin's relapse. He will have a lot of blood taken; first for his usual CBC and chemistry panel, then for a Voriconazole trough (to see how much antifungal medication is in his system), then the repeat draw for the peripheral sample requested by NIH. We have a time slot in the Infusion Center, should he need blood or platelets. I expect he will. We will also wade through the typical new year paperwork, both with the Hospital Homebound academic program and the financial department. With both Michael and me there it should be no problem.
I don't expect we will have any answers tomorrow. I don't know what Benjamin's blood will tell us. If he is at the point where he needs interim therapy, I'm not sure what that will look like. I trust Dr. Oshrine completely and I know he would run anything he plans to do by either NIH or CHOP as we wait for Benjamin's path to be made more clear. I also know that Benjamin is tough as nails. He just seems to be able to push harder and longer than he "should" be able to. So we may be able to hold off a little while longer. Tomorrow will be illuminating. One thing is crystal clear: this weekend at home has done a world of good, for all of us.