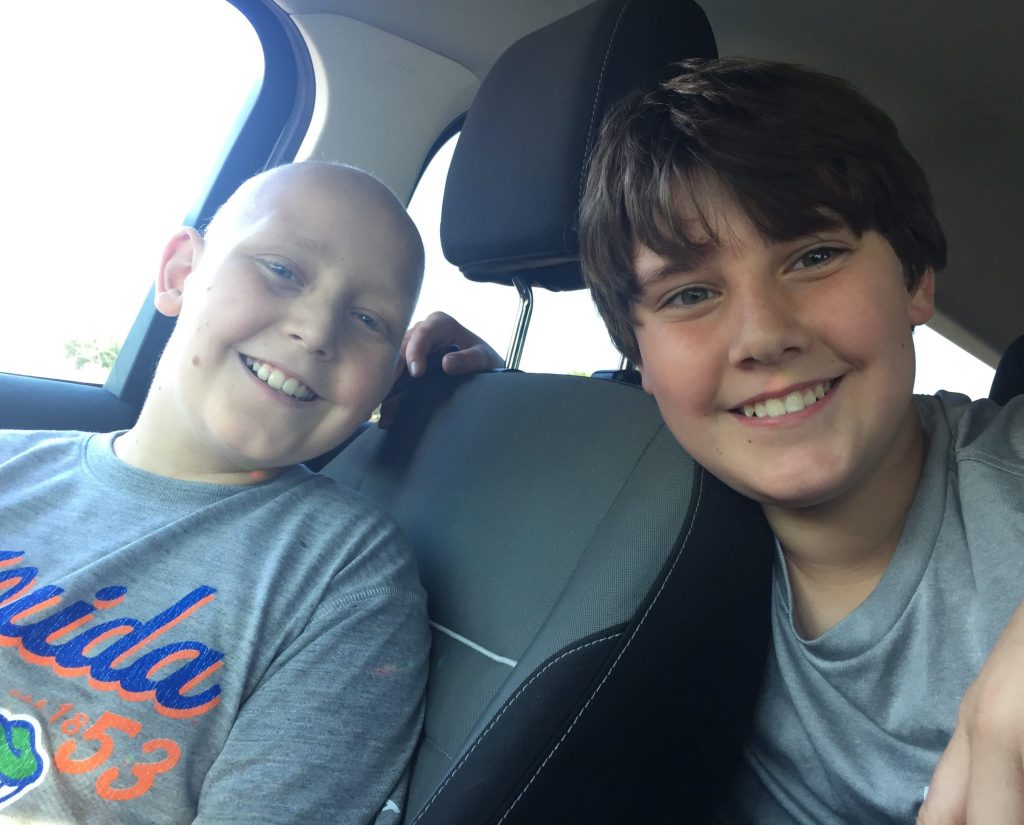 It was so good to be home today. Benjamin had a day of high highs and low lows. When he felt well, he was so happy. When he felt poorly, he was in tears. It's so hard to see him hurting in any environment, but it still feels so out of place when it happens here.
Mainly, Benji's pain is still localized to his belly. He didn't have any trouble eating or drinking or taking his pills today, however, and he wasn't nauseous. I don't know how a belly feels that has been wrecked by antibiotics and medicines for months. Maybe that's what he's feeling. Maybe it's the increase in leukemia cells adding pressure to his spleen and referring elsewhere. Or maybe there is something else going on that has escaped ultrasounds and lab tests. We can't know the cause right now, all we can do is try and help him feel better. I am so grateful that he is so in tune with his body and can articulate everything he feels, and everything he needs. So many parents we've met through this have children that are too young or nonverbal to do so.
Michael took Banyan to school today so that Benjamin and I could sleep in. Benjamin's belly pain prevented the sleep part, but we had a restful morning. Benji played quietly while I unpacked. We took breaks to walk outside and just breathe fresh air. At lunchtime, Benjamin begged me to pull Banyan out early from school. He had already taken his science test and wouldn't be missing much in the afternoon. I conferred with Michael and we agreed it was the right decision. They were so happy.
In the afternoon, I emailed NIH to make sure they had received the blood sample that was shipped to them yesterday. They replied that they had not received it, and that they had been in contact with All Children's, and another sample would be collected in clinic Monday and shipped north. WHAT?! I was livid. I forwarded the email to Dr. Oshrine, then called the charge nurse on 7 South and asked for our nurse practitioner, who had arranged the blood draw and shipment. She called me back immediately.
It was simple human error, and I don't know which human. It sounds like our team did their jobs properly and attached all of the proper paperwork and such to the sample, but somewhere between the lab and the plane and Bethesda, the two got disconnected. I know these things happen. But I felt so much anger. I could not believe it. Everyone I could talk to got an earful, by phone and by email. There is so much right now we can't control. Shipping labels are well within our control. This was something that should have gone smoothly. Now Benjamin's sample will be delayed by four days.
If there was any benefit to today's mishap it is that everyone at both centers and the shipping company knows that this was a mistake that must not be replicated. I expect that when NIH does get the next sample, it will be analyzed quickly. If I hadn't emailed them, I wonder if I would have been notified before Monday. The other piece of this that really upsets me is that somewhere, 10mL of Benjamin's blood was cast aside and eventually discarded. That blood held answers. We need answers.
I channeled my frustration into the beginnings of a deep clean of this house. Living in a singular room for 100 nights has given me a new and much needed perspective. If we are going to care for Benjamin here, predominantly, this place needs some work. I am ready to get rid of all the clutter and clean all the things. This is something I can control.
We ended our evening with a rainy nighttime drive to a favorite ice cream shop. The lights of our sweet city were gorgeous reflected in the bay. I'm so grateful to be here.