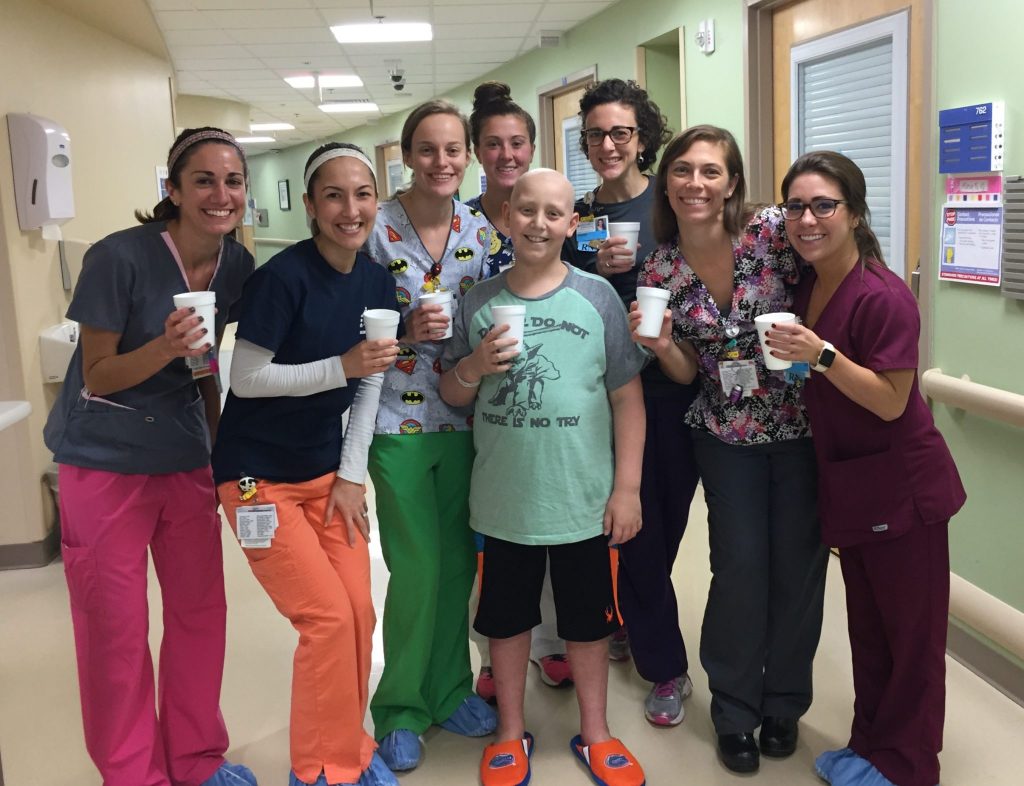 We are still waiting for some critical information, but we also have some answers. A path is forming and it includes time at home. The biggest blessing that has come from today is the knowledge that Benjamin's cells have enough of the CD22 protein to pursue enrollment in a clinical trial. Now we just need to get there, as quickly as possible.
I was up at shift change and watched Benjamin sleep peacefully until morning rounds. His lab numbers were consistent with the last couple of days. His white cells continue to rise, and his leukemia percentage (and total blast count) is rising with them. The number is still manageable, for now. His platelets have held so steady. He hasn't had a transfusion in a full week. And his neutrophil count, while still severely neutropenic, is gaining a little ground.
During rounds, the team updated me with the current state of communication between Dr. Oshrine and CHOP. They said that Benjamin was probably eligible for the clinical trial, but there were still several questions to be answered regarding scheduling and interim treatment. Probably eligible. I tried to see this as a gift, but probably, while promising, is a pretty frustrating qualifier.
The team also told me that Dr. Oshrine would try to stop by later, but that they didn't expect him to learn any information that should keep Benjamin admitted. We had a long discussion about transitioning to outpatient care. Benji is eating and drinking completely on his own and taking all of his medications orally. Other than maybe an extra layer of infection prevention–and that's questionable–there is nothing keeping us here.
Benjamin woke up during this conversation. He asked his own thoughtful questions. We could have rushed things and left as early as this afternoon, but we collectively decided to stay through tonight. It was actually Benjamin's decision. If we left today, he would stay accessed and come to clinic on Friday. If we leave tomorrow, he will get deaccessed, and not return to clinic until Monday. For him, it was a no-brainer. I voted for tomorrow also. The chance at an afternoon conversation with Dr. Oshrine was worth staying for. I'll also rest much easier over the weekend with one more day of morning labs and a potential platelet transfusion.
Almost as soon as the decision was made, Benjamin's tummy started hurting again. I saw a look on his face I hadn't seen since last week. I wondered if perhaps the C. diff was returning. A positive diagnosis would certainly keep us here. I asked for a collection kit in case I needed to gather a sample. Fortunately the pain was short-lived. Benjamin's appetite was healthy and he felt well for the rest of the day.
I loaded up a wagon full of non-essentials for Michael and Banyan to take home with them tonight. Then Benji and I hunkered down to finish his multiplication test. He was grateful for the break when Dr. Oshrine walked in. I was grateful too.
Dr. Oshrine said that the probably eligible description came because Benjamin isn't officially enrolled in the clinical trial yet. There are certain other parameters he has to meet, but they are essentially formalities. The good news: Benjamin's cells do contain enough CD22 protein to meet the requirements for the trial. This deserves the majority of my attention and gratitude tonight. There was a lot of information to follow though, and I'm still processing it all.
Dr. Oshrine is as frustrated as we are with CHOP's lack of expedience. This trial is so small and so new and the manufacturing of the cells so complex that we are at the mercy of their wait list and their timeline, and we understand that. But even simple communications seem more difficult than when we were discussing the CD19 trial. Because of this, and because he feels it would be irresponsible not to, Dr. Oshrine is also pursuing the same clinical trial at the National Institutes of Health (NIH), where it originated.
The trial, its parameters, and the manufacturing technique for the altered cells are identical at both facilities. The plus side for the NIH is that they have more experience with this particular trial. It's also closer. The down side would be that Benji would have to go through apheresis again at their facility, whereas CHOP could use Benji's collected and frozen T-Cells. But none of these factors will weigh into our decision. Benjamin will go to whichever center can treat him first. Period.
Since I have made good contacts at both CHOP and the NIH, I decided to resume regular emails to each of them to gather information, facilitate the process, be the squeaky wheel, so to speak. I received replies from each by the end of the day. The NIH said they had been in touch with Dr. Oshrine and would be contacting him shortly regarding a timeline. CHOP said they had everything they needed from me, and that it would be about three months before we could come in to consent for manufacturing.
Three months.
Consenting to manufacture in three months means that it would be four or five months–nearly summertime–before Benjamin could begin treatment. I felt that punch to the stomach again. Not only is that an awfully long time to manage his leukemia, but his CMMRD predisposes him to hypermutation. If I understand it correctly, the longer we wait, the higher the chance that the makeup of his cells could change.
I started to respond to CHOP but the words sounded desperate. I decided to wait a day or two and see what the NIH timeline looks like. I need to be careful, controlled, and specific in my communications. Persistent and persuasive emailing is something I know how to do. I have no idea if it will help, but I can damn sure try.
Dr. Oshrine was fully on board with our plan to go home tomorrow. He encourages it. We will visit the clinic Monday and twice a week or so thereafter. Once a center is decided upon for the CAR-T trial, they will direct Benjamin's interim therapy here, and we may need to return to inpatient status. We also know that any number of things could put us back up here. But for now, we are going home.
It will be so nice to be home. I know it will. Benjamin knows it will. We wouldn't trade it for anything. Still, tonight, we both felt nervous. Excited, but nervous. When we went home for Christmas, we knew we would be right back. It's different this time.
Tonight was a favorite nurse's last night shift. We toasted her with a round of Benjamin's homemade grape soda. It kind of morphed into a goodbye toast to us as well. We have spent 100 out of the last 108 nights in this building. The nurses have become a second family to us. This place and these people have given us consistency and security when things felt anything but secure. We want to go home, and we will fall into its comforts completely, with huge gratitude and love. But as crazy as it may be, we will miss the home we have created here, on the seventh floor.
Benjamin is eligible for the clinical trial. He feels good and he is happy. And we're going home.