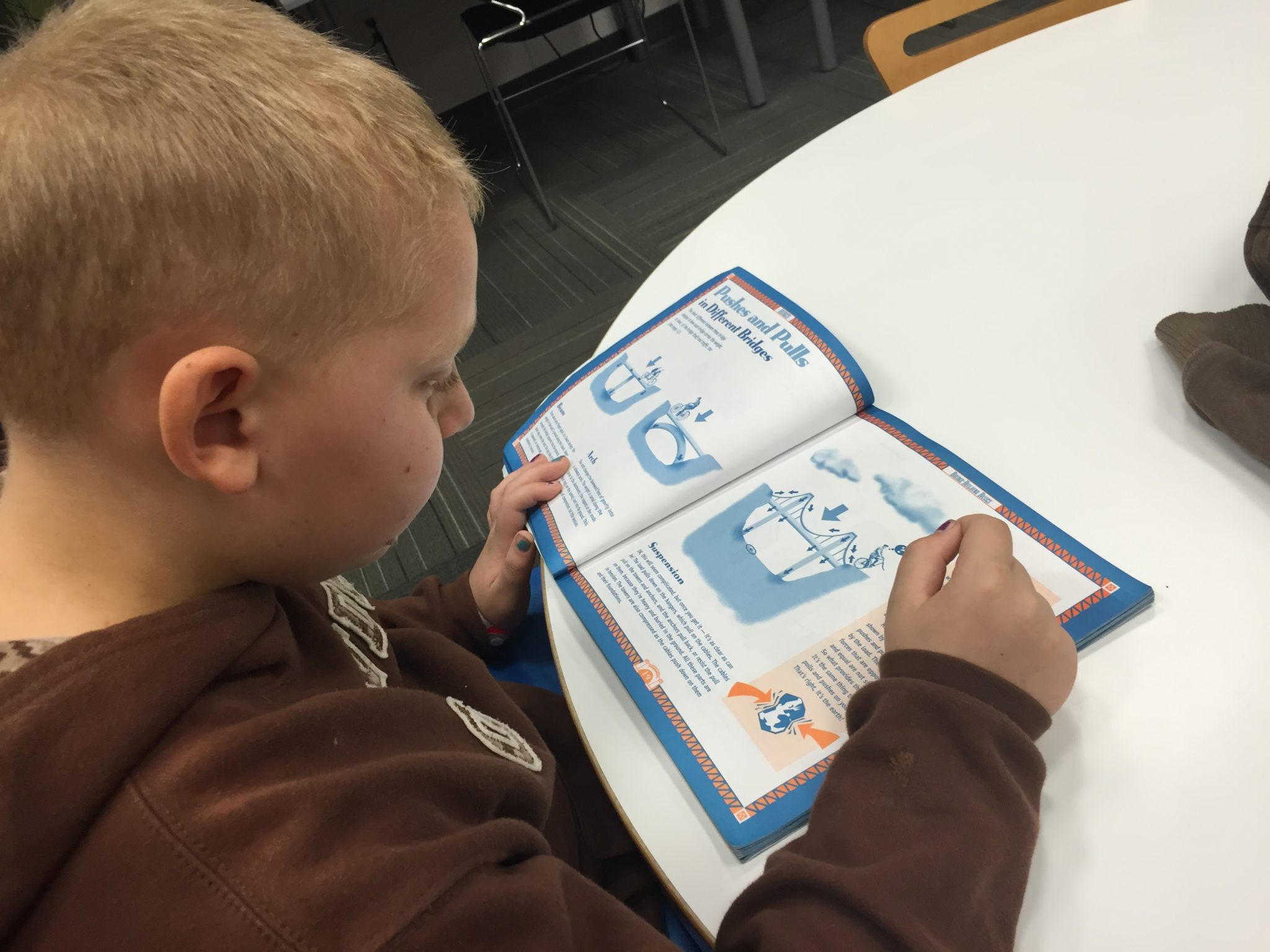 Week 2 of Consolidation. 3 trips over the bridge down, 1 to go.
Benjamin's clinic visit today was relatively uneventful (as uneventful as an appointment to inject chemotherapy into your child's body can be). We didn't even meet with a physician or PA today–a first, though the nurse did consult them to make sure a blood draw wasn't necessary until tomorrow. We were asked the usual questions about medications and bowel movements and such. Benjamin can answer all of these by now. Our nurse, a new one, gave Benji his Zofran intravenously, then hooked him up to the 15 minute Cytarabine drip. Some nurses don't put on the blue cloak; this one geared up in full haz-mat costume. Cloak, gloves, extra snaps, the whole nine. I wouldn't have been surprised if she had whipped out a pair of safety goggles.
On the way home, Benjamin asked me what the "yellow things" were for on the Sunshine Skyway. I tried to explain basic engineering, and I know I failed horribly. We stopped by the library when we got home to Sarasota, and found a great book in the kids' section about different kinds of bridges (the Skyway is a cable-stayed bridge). The book included suggestions for building models of each kind of bridge. I see a little Skyway in our future.
These are the kinds of things I want to be sure to keep in our homeschool repertoire; project-based learning driven by his questions and interests. Lately, our schoolwork has been a real struggle, when it was so much fun at the beginning of this journey. There are several reasons for this, and I understand them all. We've been in the clinic so frequently that we've had very little time, both to do the actual work and for me to prepare the lessons in a fun and engaging way. Also, Benjamin is trying to exert control over his life and his choices however he can. When faced with a reading test, especially while faced with everything else he's going through, he's going to say no way.  And honestly, I'm not inclined to argue with him too much right now. I know that when we have most of our mornings at home again, the work will get done.
Benjamin's lovely teacher paid us her weekly visit today and made me promise not to worry about the workload. He's right where he should be in terms of assessment, and we'll make up the rest when we can. She reminded him to "focus and finish," her classroom mantra, when it's time to buckle down and do the work. I like those words.
Still, the growing stack of schoolwork kept poking at me. It threatened to push me over with a gang of overwhelming thoughts, should I budge just a teeny bit. So, I too tried to exert control however I could. I spent most of the evening in the kitchen, washing and chopping fresh fruits and vegetables for snacks and juicing. I made a healthy lunch for our trip to the Infusion Center tomorrow. I cleaned out the refrigerator and baked a banana bread. I unpacked and repacked the hospital bag and organized The Binder. And before that banana bread comes out of the oven, I'll have a plan for getting a little bit of schoolwork accomplished tomorrow while Benjamin is getting his blood transfusion.
Did I really just type that last sentence?