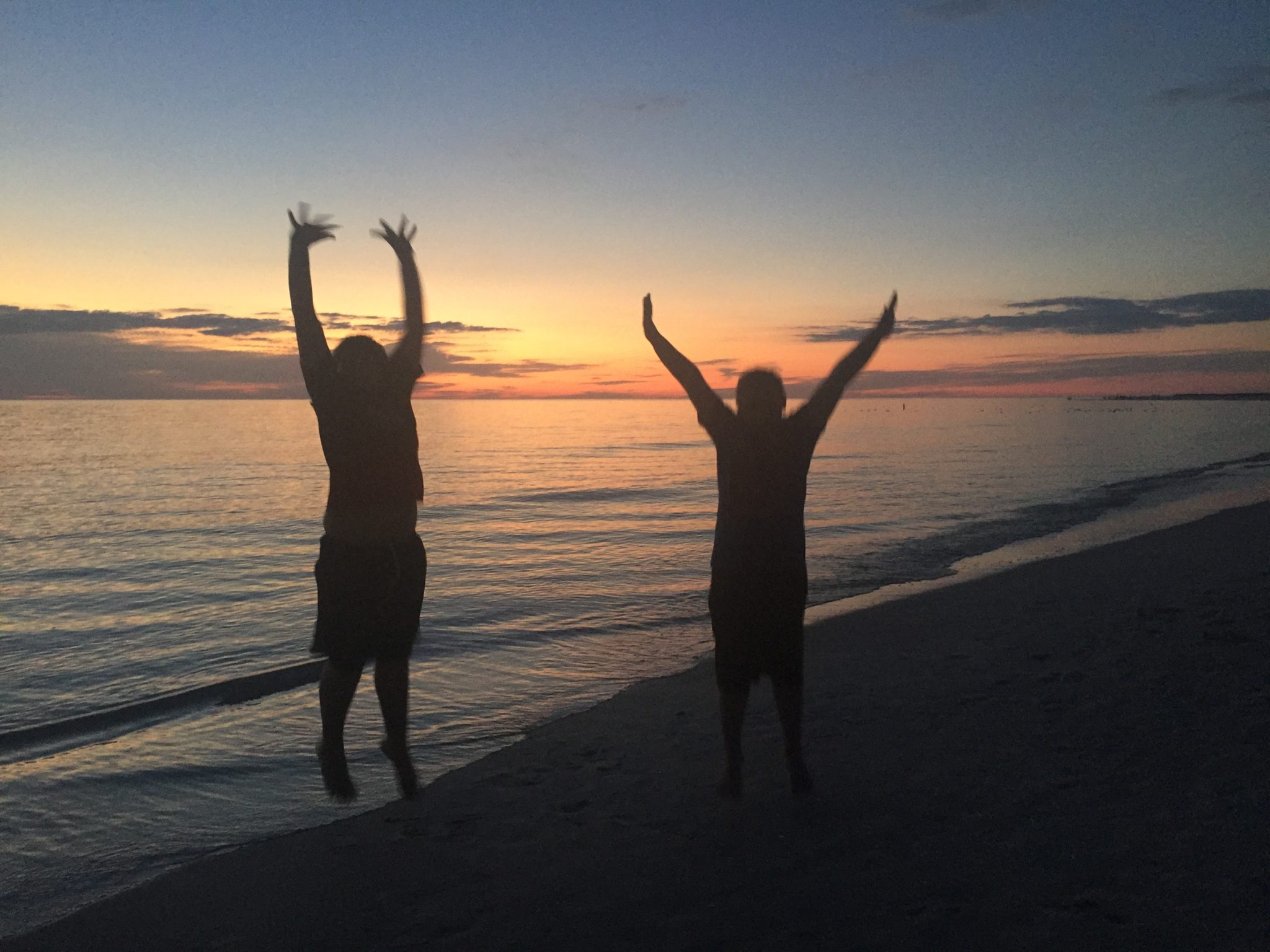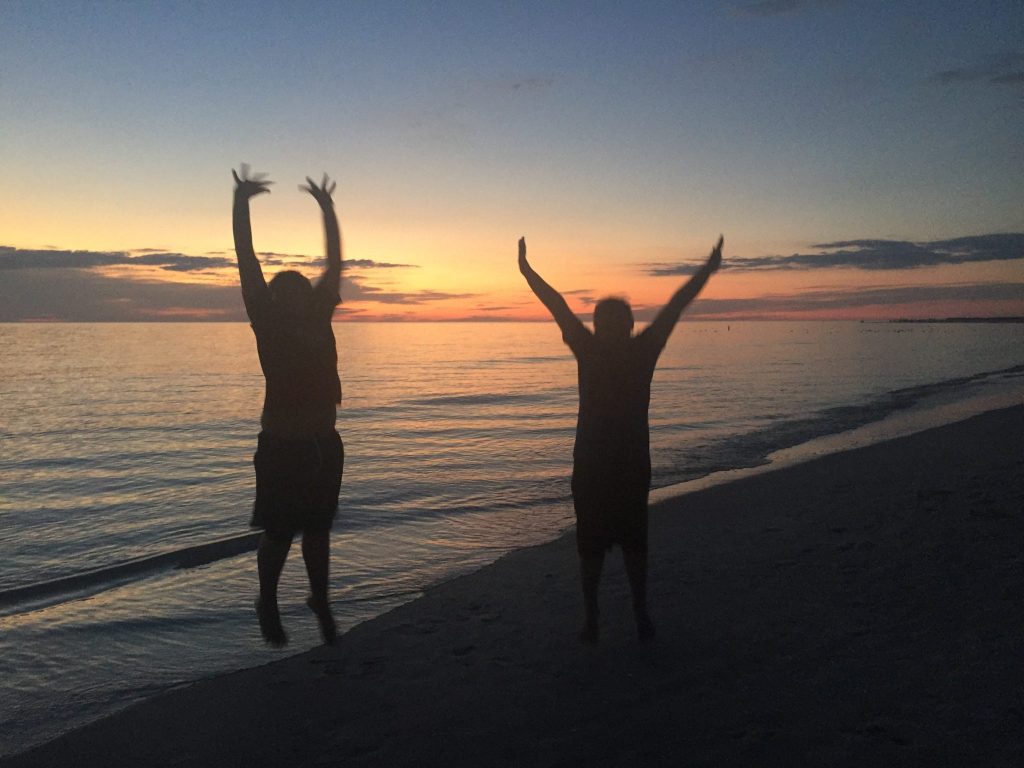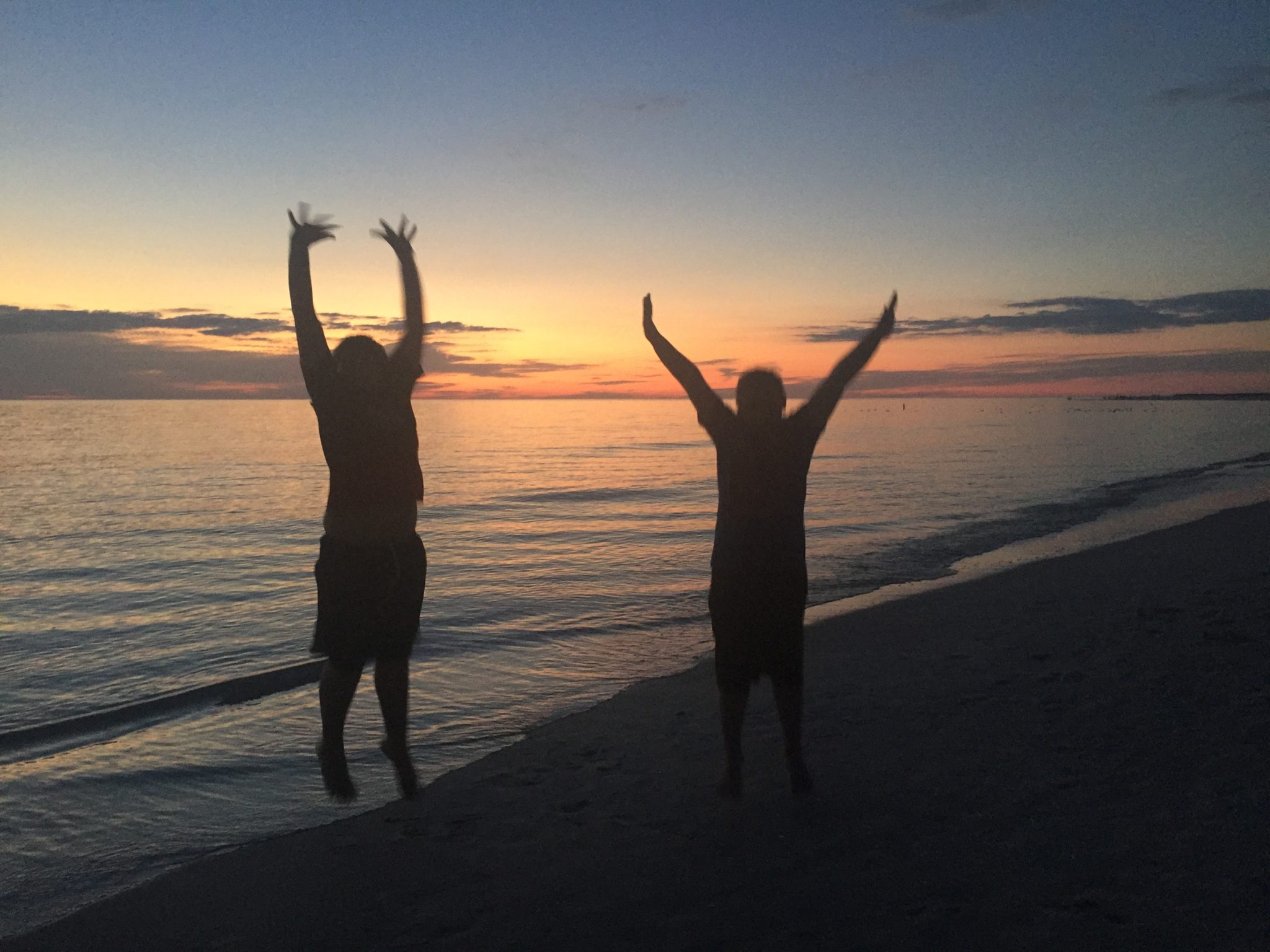 My heart is so full sometimes I think it might just burst wide open.
Benjamin couldn't even climb into bed last night, his body was so tired. It was a long day with lots of physical activity and full-speed-ahead fun. I helped him up his ladder and he fell asleep in my arms. He slept in this morning, later than usual. We all slowly rose into Sunday.
The weather today was perfection in Sarasota. We grabbed brunch and had a quick car picnic overlooking the water, then went our separate ways. I had arranged a rainbow star making gathering this afternoon and was looking forward to it very much; but leaving my boys on such a gorgeous Sunday was really, really hard. I decided, with Michael's counsel, that this would be the last Sunday starmakers' gathering. The best way for me to honor other families on treatment for cancer is to love up my own family as much as I possibly can. We get two short days as a foursome each week, and those days are sacred.
The Rainbow Stars are going strong, however, and our family believes in this project. I will hold our gatherings on weeknights and by sending tutorials to other volunteers. We will continue to send rainbows into the clouds of as many families as we possibly can. I opened the doors of the Honeybee Cottage, next to the building in which I first heard my sons' hearts beat, and cranked the music up. I set up all of the supplies, then began folding. The other starmakers trickled in later. I was grateful for the time alone. Sophia was heavy on my heart today.
Sophia is a little girl whose family I have not met. They are in treatment at Johns Hopkins in Baltimore. Sophia was six months old last summer when she was diagnosed with a brain tumor. She is barely a year old now and two weeks ago, her family was given devastating news. Sophia has been given a zero percent chance of survival. Today, her parents made the decision to extubate her, and enjoy the time they have left with their daughter, grateful to be able to hold her again.
What has affected me so much about Sophia's family is the direction their faith has taken them. They believe that God has personally promised them that he would heal their daughter. And I don't mean heal her with eternal life in heaven, like some might believe. I mean here, earthside. In this body. Her mother or father will write things like, "I will continue to remind Him of His promise to heal her. Continue to ask him to perform a miracle. All this could not have been for nothing. He's brought us this far and I believe only HE will finish it."
I deeply admire people with true faith. I have seen the peace it can bring to families in times of struggle, transition, and loss. But this family's faith seems different somehow. They cling to a Bible verse (Mark 5:41) which says, "Taking her by the hand he said to her, 'Talitha cumi,' which means, 'Little girl, I say to you, arise.'" The father has tattooed Talitha cumi on his wrist. They expect a miracle to happen. My heart hurts for them, not only because of the pain they are experiencing in their daughter's final days, but because I can't stand to think of them feeling betrayed.
The first star I made today was for Sophia. I knew she was being extubated at 3pm, and shared that news with the first family to arrive, a family I know shares a deep faith. The matriarch of the family offered to take me outside to pray with me for Sophia's family, and I said yes immediately. This spiritual language may not be my spiritual language, but it is one these two families share, states and worlds apart.
In the gorgeous afternoon sunshine, I held this mother's hands as she prayed and cried for Sophia and her parents. Her words were so heartfelt. She asked their God to be with Sophia's family in these moments, to wash them with His peace, to help them to find purpose in this path, to lead them to help other families, to bless them with another child to bring them joy. I cried with her. I was so grateful and relieved for the opportunity to honor this moment and to add our energy to the energy sent by thousands of others to this family today.
My mother-in-law and sister-in-law joined our gathering, as did another friend. We had seven starmakers in all, and we made fifteen gorgeous rainbow stars to send out into the world. I missed my boys this afternoon but left feeling accomplished and grateful; grateful for community, for support, for faith, for my own spiritual peace.
Benjamin was tired when I came home and feeling rather contrary. We discussed several options for dinner and finally agreed to a picnic on the beach. We rushed to beat the sunset and just barely made it. We wound up staying long after dark, Michael and I leaning into each other on our blanket, watching our boys become silhouettes against the pink sky. When Benjamin ran toward me with a treasure in his hand, I flashed back vividly to his toddler-hood, and saw the same joy on his face now. I watched with pride as Banyan dictated games for them of his own invention. I felt absolutely overwhelmed by the gratitude in my heart. It is the greatest feeling in the world. It is my spiritual language.