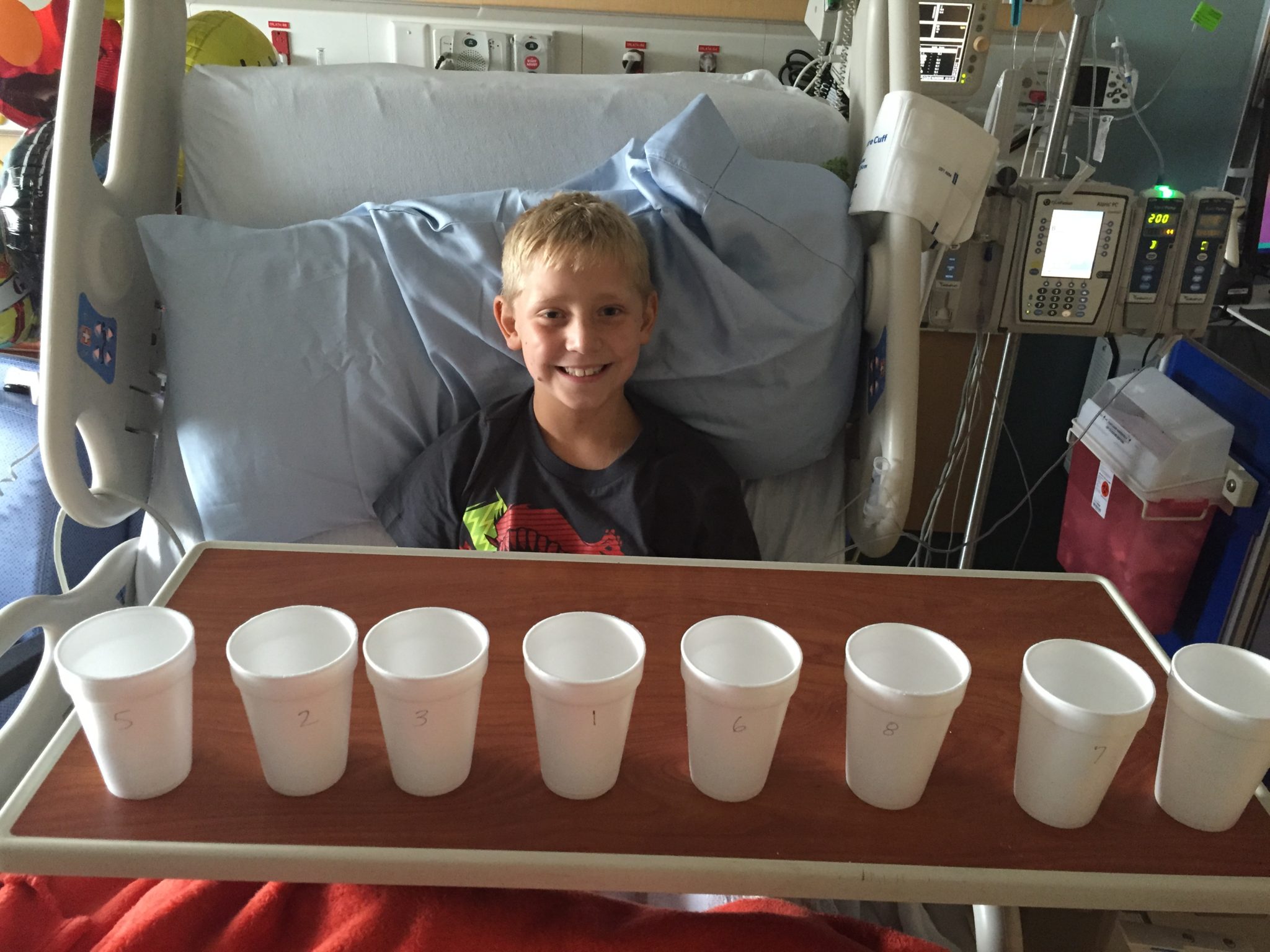 I'm relieved and happy to report two good days running. Benji has had several visitors yesterday and today–family, friends, teachers–and was upbeat and positive the whole time. By the end of the day yesterday and again tonight, he was exhausted. I write this as he sleeps.
We are learning so much. Chemotherapy radically changes one's sense of taste and smell. Foods Benji used to love repulse him now. But he's eating. Today's winning dishes were roast turkey slices and cucumbers with salt. The rice bowl from Chipotle was also a hit. I'm beginning the research on long term nutrition for leukemia patients. I knew I'd have to consider absorption, nutrients, vitamins, antioxidants. I never considered the smell of things cooking, or the way they might feel on the tongue.
Even water tastes really off to him. Enter Father of the Year. Michael purchased EIGHT varieties of bottled water on his way to the hospital today, and Benjamin conducted a double blind taste test (see photo. FYI, good old Florida Zephyrhills was the winner).
Also new is an extremely sensitive mouth. Benji's chief complaint last night was mouth, tooth and jaw pain. It's like he can feel every pore more acutely. I am grateful to be on a texting basis with his dentist, Glori Enzor, who not only broke me off some major knowledge on the importance and best practice of oral health during chemotherapy, but sent a beautiful dental care package via my mother-in-law today. This boy's in such good hands.
At around 12:30 today, Benji took a new chemotherapy medicine; the fourth of the five that comprise his particular cocktail. We've been very watchful for his reaction, but so far so good. Day 1's medicine took until Day 2 to show its colors. Hoping this one stays easy on him.
Today was Banyan's first day back at school and I know he fielded lots of questions. I'm told he explained leukemia to his whole class. Seriously chokes me up thinking about that. He called me after school to tell me about his homework for the week. Michael said he got completely ready this morning with no reminders. Not the way I ever would have wanted to instill a sense of responsibility on the kid, but I'm so thankful for it.
If all goes well, we could be home over the weekend, and begin treatment there, and partial homeschooling, and commutes back up to All Children's. We are talking about how to amend the home without depleting any sense of normalcy. It'll be good to be back.