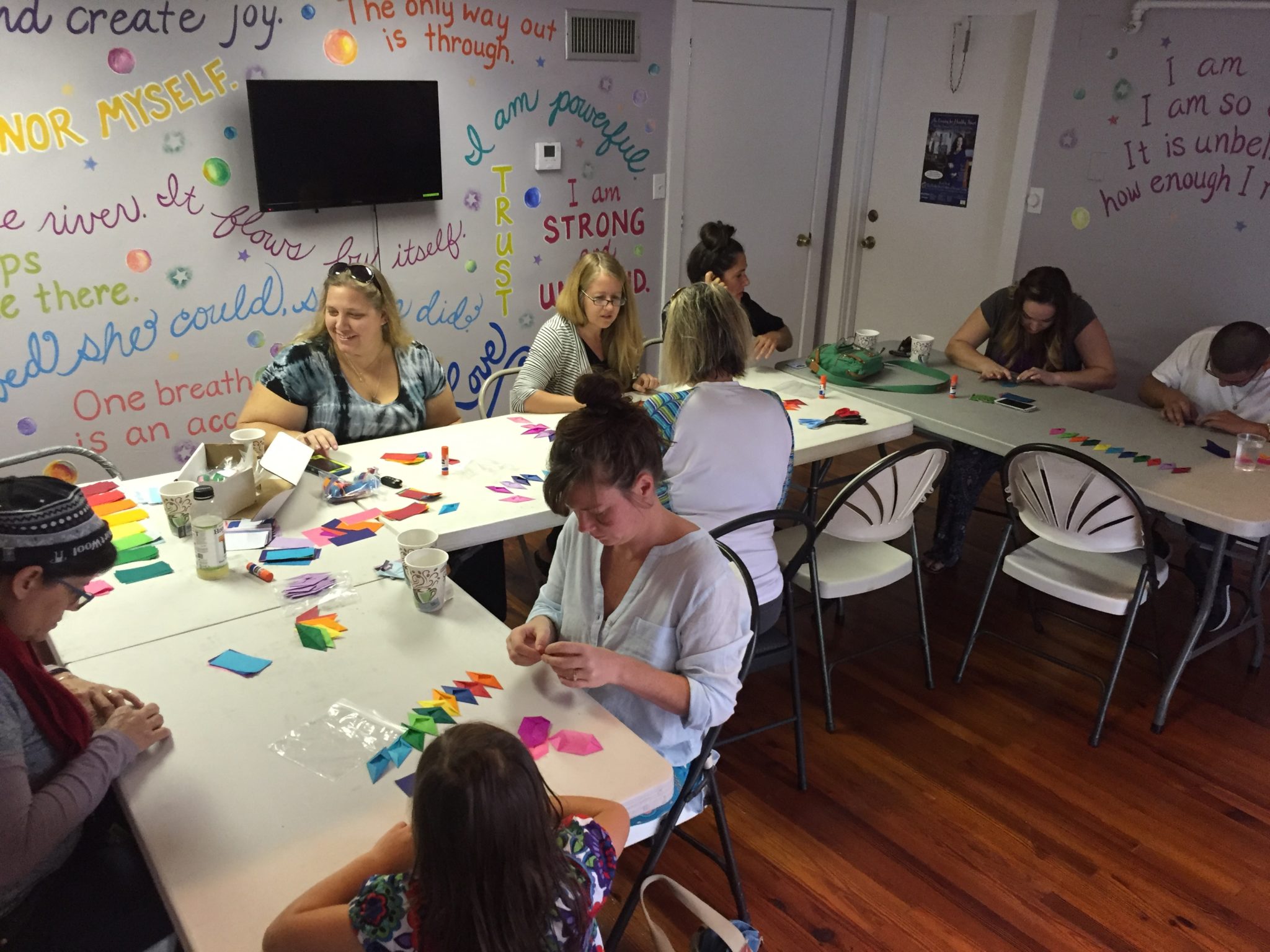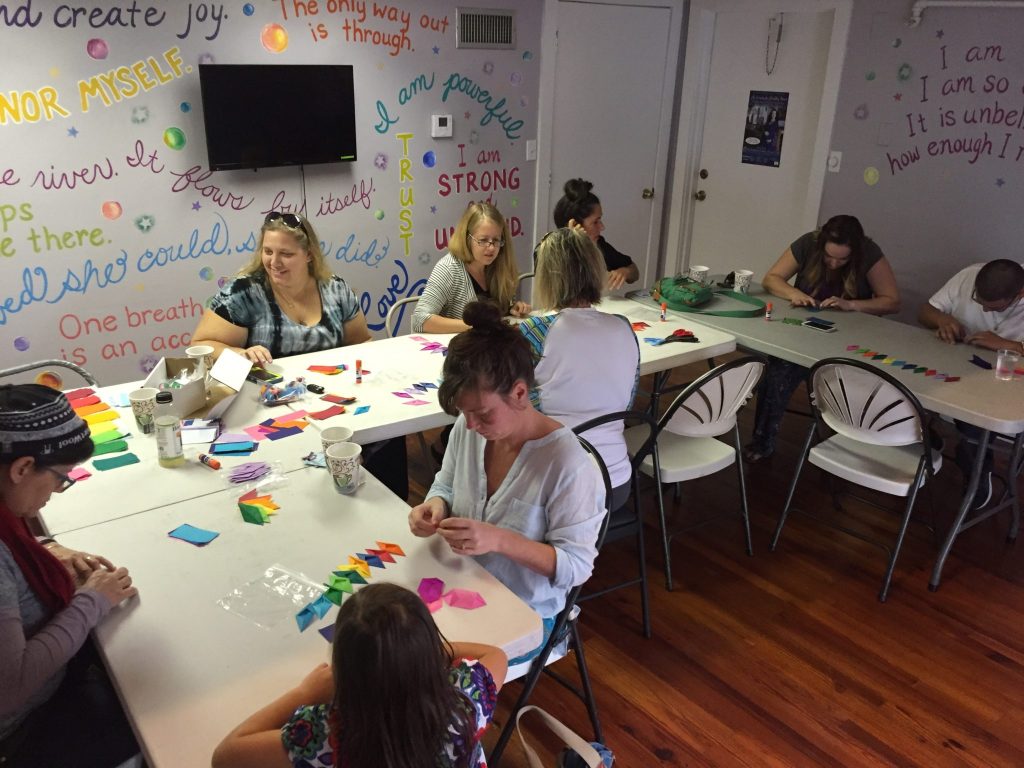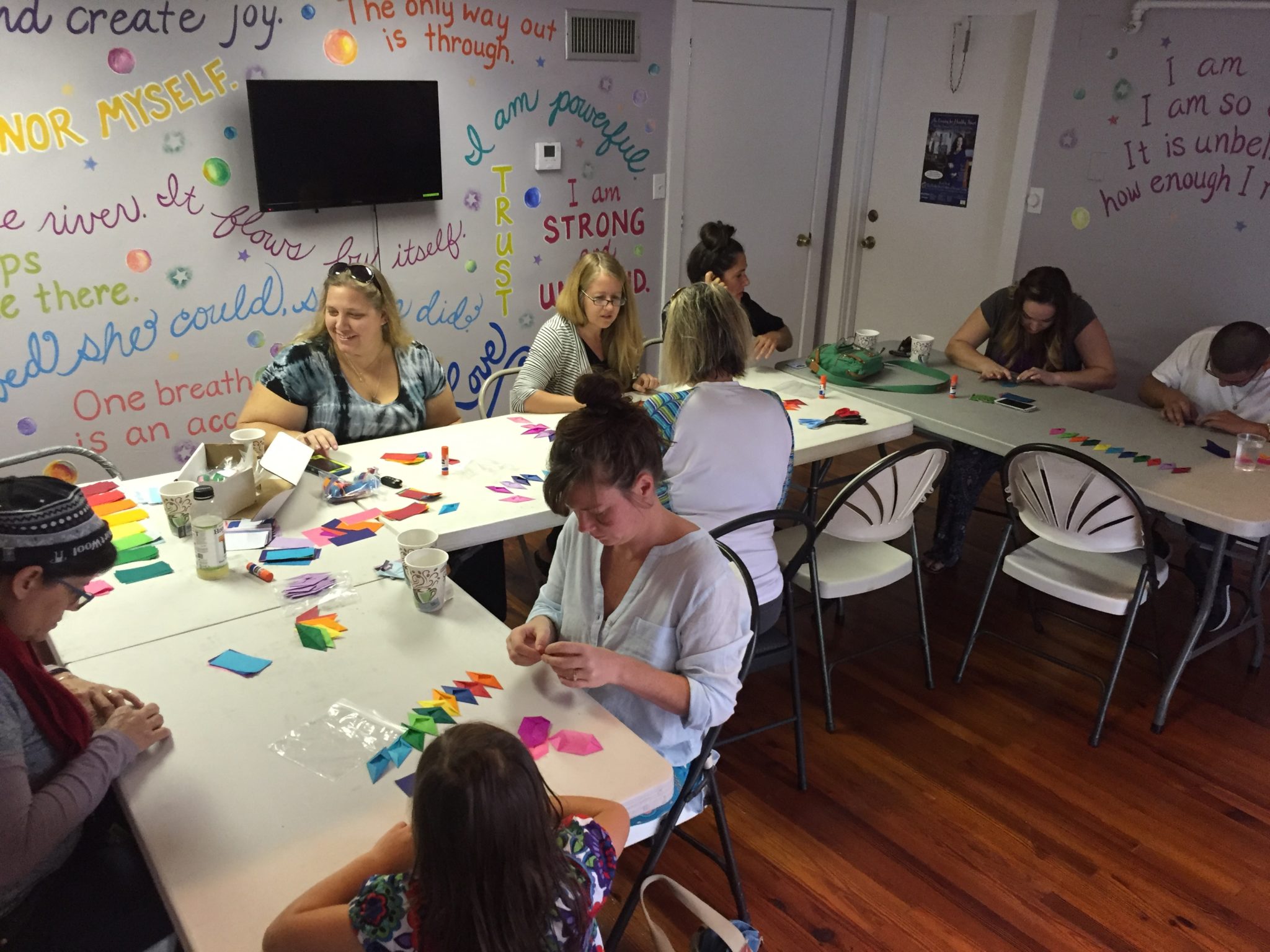 This afternoon, I hosted the first in what I think might be many gatherings of a group I'm calling "The Starmakers." These are crafty folks in our community who have seen our rainbow stars and want to help us make more. Eventually, we'll gather enough of an inventory to be able to offer them to children with cancer throughout the country upon request, free of charge. That's the goal. I'm still working out the logistics. But I knew the first step was to gather the hands that wanted to help fold, glue, laminate and cut. So today, I did.
It was so rewarding to come together with such a meaningful common purpose. At one point, a friend asked me why the rainbow stars were significant. I remembered the beginning, right after Benji's diagnosis. Every detail of that hospital room is permanently etched in my memory. Affixed to the giant windows through which we stared for hours was our solar powered rainbow maker, and a prism with rainbow colored beads Michael's aunt had given us. Those things, as trivial as they may seem, really did serve to brighten our confusing, surreal home on the seventh floor. They also compelled me to remember the Maya Angelou quote that inspired this blog. It was such a gift to be able to see the brightness in those dark days. It would feel so good to be able to brighten other hospital rooms too. I left our little gathering with sixteen rainbow stars today. Sixteen windows soon to be brightened.
As I was leaving our gathering, which was held in the childbirth education space at my birthing home, I crossed paths with my sweet friend and midwife to Banyan. We had a very interesting conversation about the undervalued importance of both the immune system and of genetic predispositions in fighting viruses and disease. She got my wheels turning big time. I have a new research list for the week, but also for the long term. Lately, so many things I've been reading have been pointing to the same conclusion: something compromised Benjamin's immune system to begin with, pre-leukemia. He was not equipped to attack the cells that were replicating. Why not? It is a mystery that many doctors and scientists have tried to solve, for decades, for the betterment of humanity. I just want to solve the mystery within this one human being. I want to know specifically what happened that caused Benjamin's cells to replicate uncontrollably and not his brother's, or his neighbor's, or mine. I can't help wondering, even though genetic testing for his cafe-au-lait spots was negative, if his nuanced skin holds a clue to the answer.
I came home from the Starmakers' gathering and served dinner to my people. Aunt Sarah and Lotus left tonight after a successful art festival on St. Armand's. Tomorrow is Monday, and with it comes a whole slew of obligations and to-do's. Tonight, I am content to reflect on the good intentions these rainbow stars are creating, and the blessings from which they were born.