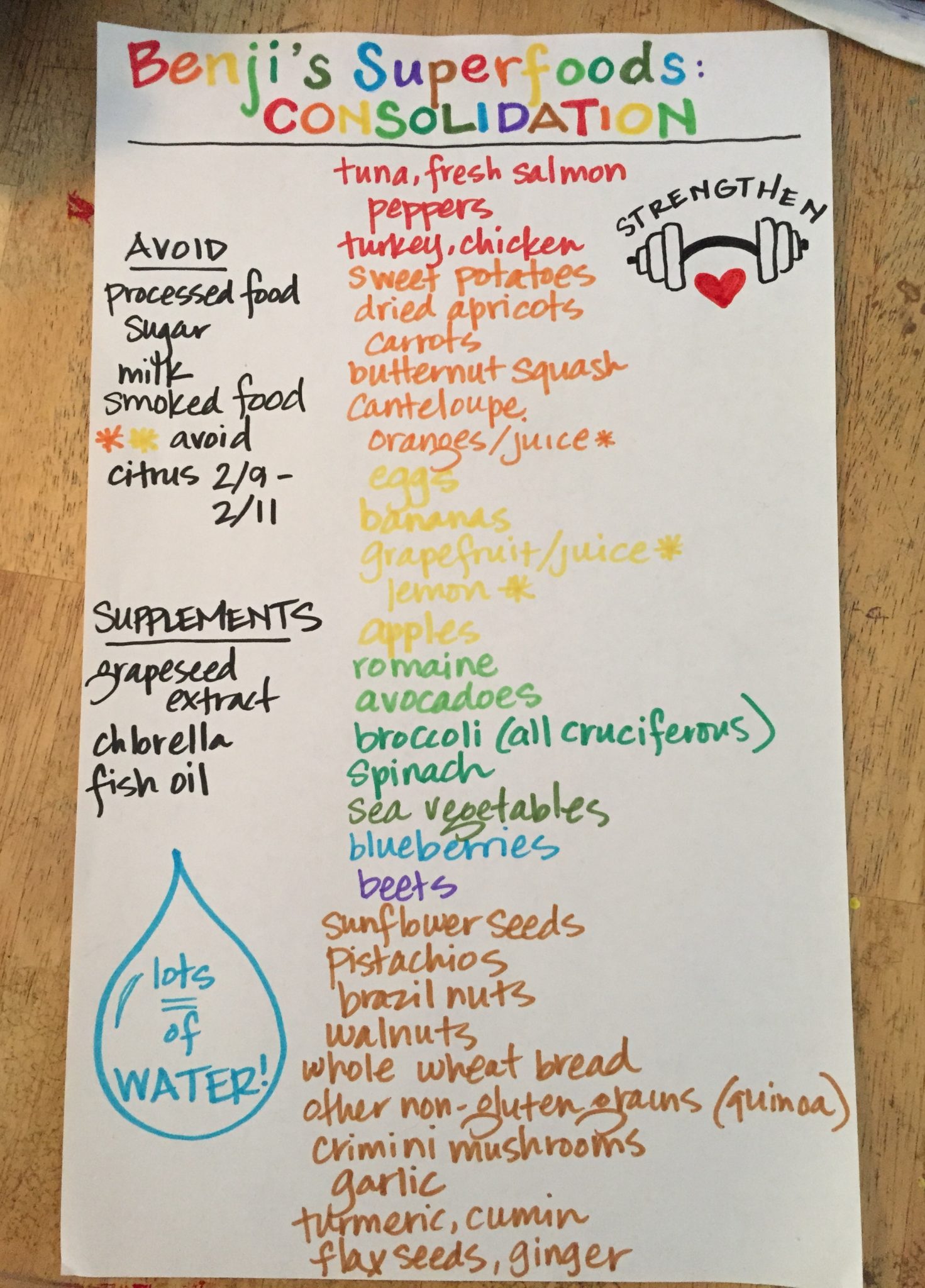 Another gorgeous day to end this almost perfect weekend. I woke up this morning and made a nice big Sunday breakfast, then sat down to two hours of research while Michael kept the boys entertained. The result: our new list of "Benji's Super Foods," customized for the Consolidation Phase we begin tomorrow. The Strengthening Phase. 
There are specific organs affected by each chemotherapy medicine. Our lists are derived by examining each medicine within a phase of treatment, researching which organs may be compromised by them, and compiling the best foods to eat to strengthen these organs. Then a sort of matrix is formed to eliminate foods that may be healthy for one organ but harmful to another during treatment. Also on the lists are foods to avoid, and general cancer fighting and blood building foods and supplements. The final list is color coded for Benji's enjoyment (red for red foods, orange for orange foods, etc.) and pared down to only include things we know he likes.
Armed with my new list, I spent the next hour at Whole Foods–my Sunday refuge–with a gift card from a sweet friend, and a mission. Our kitchen, at least, is ready for this.
This afternoon, we enjoyed another delicious meal, courtesy of Grammy and Noni, followed by a second consecutive sunset at the beach. Benjamin felt so good this weekend that he moved his body a lot–football in the street, playing in the park, running in the sand–but as he melted into bed tonight, his legs started hurting again. It wasn't the kind of medicine-induced pain he experienced a couple of weeks ago. His legs were just exhausted.  Still, we are thankful he got such a healthy amount of exercise. We know his body needed it.
Despite the exhaustion, Benji had a hard time falling asleep. I laid next to him in the dark after our nightly reading from James and the Giant Peach. After a few silent minutes, he rolled over and said that he didn't want to go to sleep because he was afraid he'd have nightmares. I asked if he'd been having nightmares lately; he said no, he hadn't been dreaming at all that he could remember. I asked what he was seeing in his mind tonight that made him afraid. He didn't want to vocalize it. So I told him he didn't have to tell me, but that I understood that he felt afraid. I told him I feel afraid too sometimes, and that lucky for all of us, fear and bravery can live together in the same heart (and often do). Then I read him extra chapters from James and the Giant Peach until he slept, peacefully.