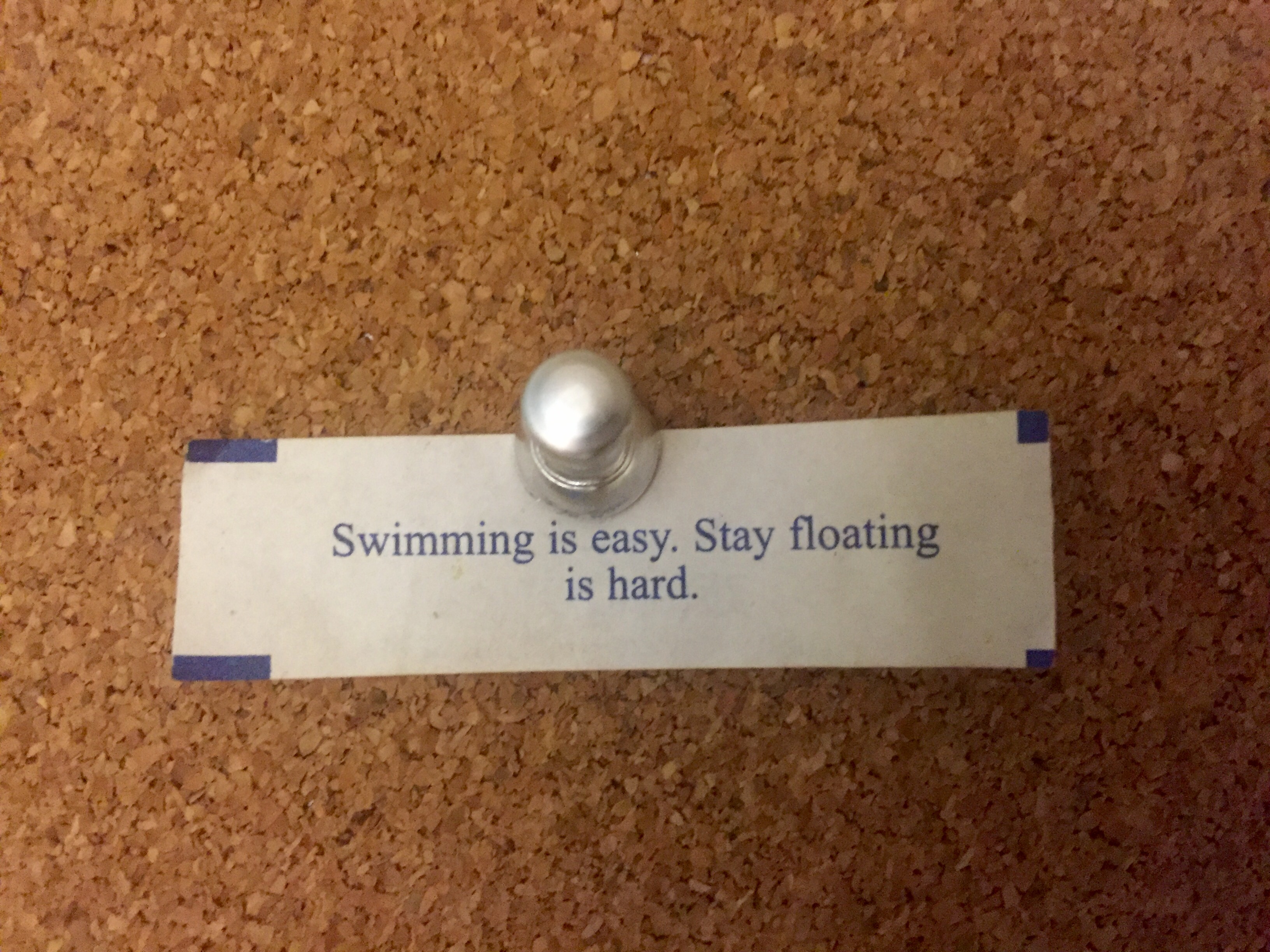 I'm very grateful that today is Friday. Today felt too busy; this week felt too busy.  I'm tired and looking forward to a good night's sleep and a fun and festive weekend.
My boys are happy. Our neighbor Emma, who turns sixteen in a week and a half, texted Benji after school to invite him to ride bikes with her. So sweet. While they were enjoying the afternoon weather, I picked up Banyan and a friend from middle school. There has been laughter and boy noise in my house all night. We ordered Chinese takeout for dinner and cracked up at the ridiculous fortunes. Mine got the biggest laugh: "Swimming is easy. Stay floating is hard."
I thought about those words as the night grew darker, and I think I grabbed that silly cookie for a reason. I know that things are so much easier for Benji now that he's in long term maintenance. His body is certainly enduring less trauma and the dosage of his daily medicine is far less toxic than what he was receiving three and four times a week. I took his blood pressure tonight and it's the lowest it's been in months. We have so much to be thankful for and so much to be proud of. We swam really hard, for a really long time. Yet somehow, I'm finding this floating part uncomfortable.
This is the light at the end of the tunnel we've been waiting for. We are not crossing the Skyway daily, or even weekly. We are resuming normal operations. I should be over the moon with joy right now, and while I definitely have those moments, I'm finding it takes more effort to get to that place. I don't feel like I can give myself permission to fully release the energy I've been holding.
I posted about this in my online moms group. I asked, "Did anyone else have trouble adjusting to long term maintenance? I mean, emotionally speaking. YOU. Not your kids." Several people commented, but one mother described through her experience exactly what I've been feeling:
"Oh Yes. I am processing a lot of anxiety, and also feelings of being lost. All of my energy during frontline was so focused and now I look at my life and don't know where I stand sometimes. I have experienced profound grace through this all, I just don't know how to move forward on a personal level. My life looks, and feels, and IS so different. I have deep gratitude, but I feel disconnected from myself."
Yes. Disconnected is exactly it. My identity was firmly planted before leukemia uprooted it. Going back to the way things were before feels somehow unauthentic, as though we aren't honoring the profound grace that carried us to this place. I don't need to know the answers. I just need to allow the profound grace to carry me now as well, to lift me in the water, to help me stay floating.