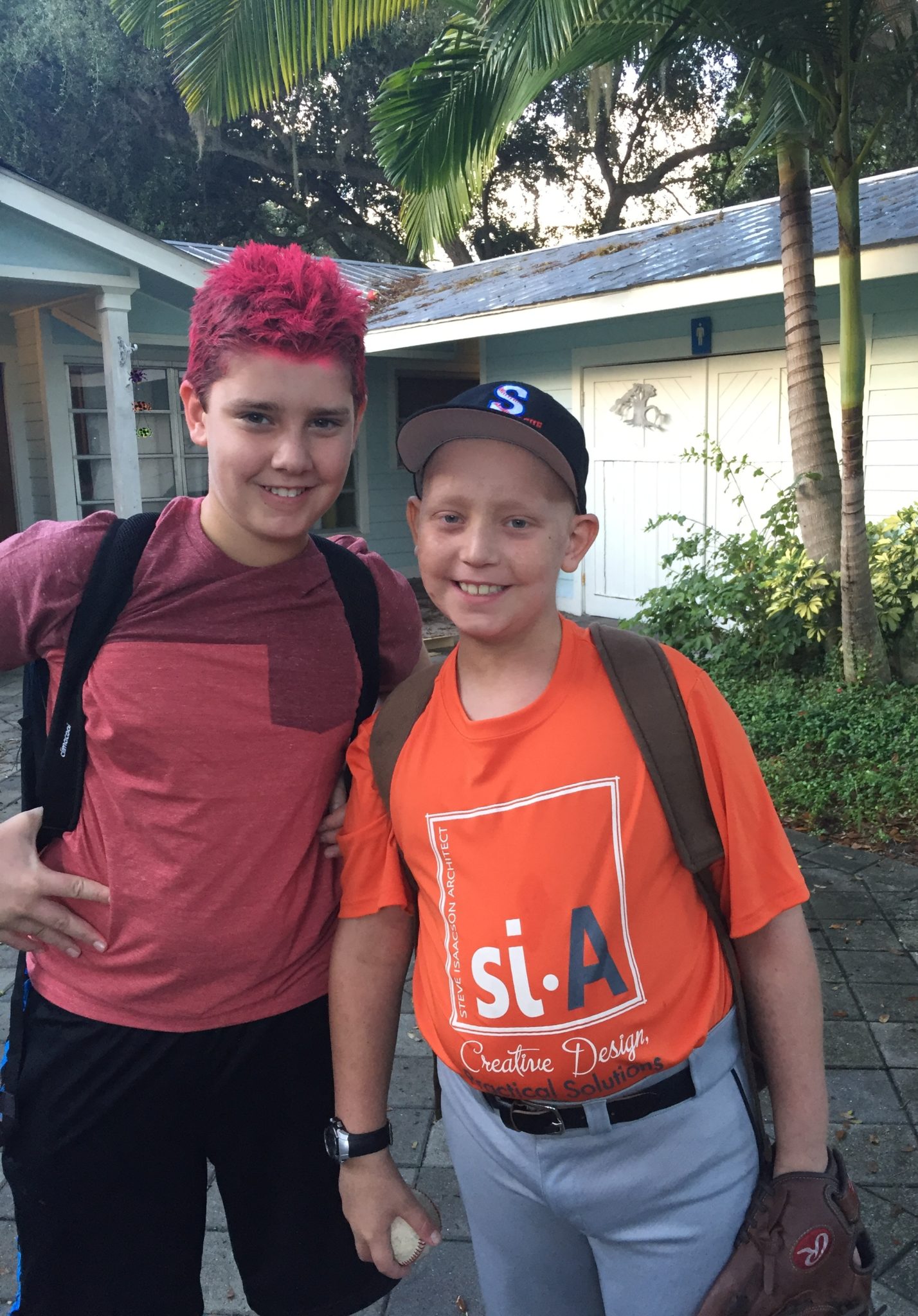 This gorgeous day was the first one that felt "normal" in quite a while.
I began the day up on the Ringling Bridge with my sweet walking friend well before sunrise. I've missed our walks so much. I returned home to help two excited boys get ready for fun days at their schools; Banyan sprayed his hair pink for "Pink Out Day" for breast cancer awareness at middle school, and Benji dressed in his little league uniform for "Hobby Day" in second grade. I encouraged Banyan to consider a gold movement next September, during childhood cancer awareness month. I may have to work on that at both schools.
Benjamin chose perhaps the most festive day of the year to return to Southside. It was his teacher's 50th birthday as well as his class's costume party. I had a conference with Banyan's math teacher this morning, so Michael had the honor of taking Benji to his first day back. It was reportedly a happy and seamless integration.
After lunch, I joined Benji's class for their party. It has been so long since I've been helping kids glue eyeballs on things at a craft table. It was so much fun, and I was proud that I didn't feel an ounce of guilt for not having helped create the celebration.
Benji looked very tired to me as the party was winding down. I gave him the choice, and he decided to come home with me, leaving school about an hour and a half before the final bell rang. I was so proud of him. When we got home, he told me he felt happy that he went today. He looked happy.
We picked Banyan up from school and the mood in the car was giddy. Banyan nailed a math quiz today and we all had the Southside Fall Carnival on the horizon tonight. The boys were laughing and happy to be together. I had the windows down and was singing out loud, enjoying the autumn winds rushing over us.
The Fall Carnival may be my favorite event of the elementary school calendar. This year's carnival was bigger and better than ever before, with fair rides and games, bounce houses, and food galore. Banyan joined a pack of sixth grade alumni who had returned for the festivities, and Benji couldn't shake my shadow quickly enough, darting off to shoot squirt guns at the dunk tank or play soccer with his friends. While I watched him a healthy distance, two kids I've never seen before walked past me. They were looking in Benji's direction. One of them said, "Isn't that the kid with cancer?" and the other started pointing at Benji and whispering to his friend. They were laughing as they walked away. I'm pretty sure I'm the only one who heard them.
My visceral reaction toward this exchange was boiling anger in my belly, and I didn't like it. I breathed it out. Benji hadn't seen a thing. He was so happy playing with friends who treated him just like they did before he was the kid with cancer. Later in the evening, I had two conversations that helped me work through it: one with a mother whose healthy middle school daughter had a bone marrow transplant five years ago, and another whose son sustained a significant brain injury last summer. Sometimes, children don't know what to say, or how to react to new kinds of information in their world. It is natural to be curious. I left the carnival extremely proud that Benjamin is showing an entire community what living with cancer as a child can be like.