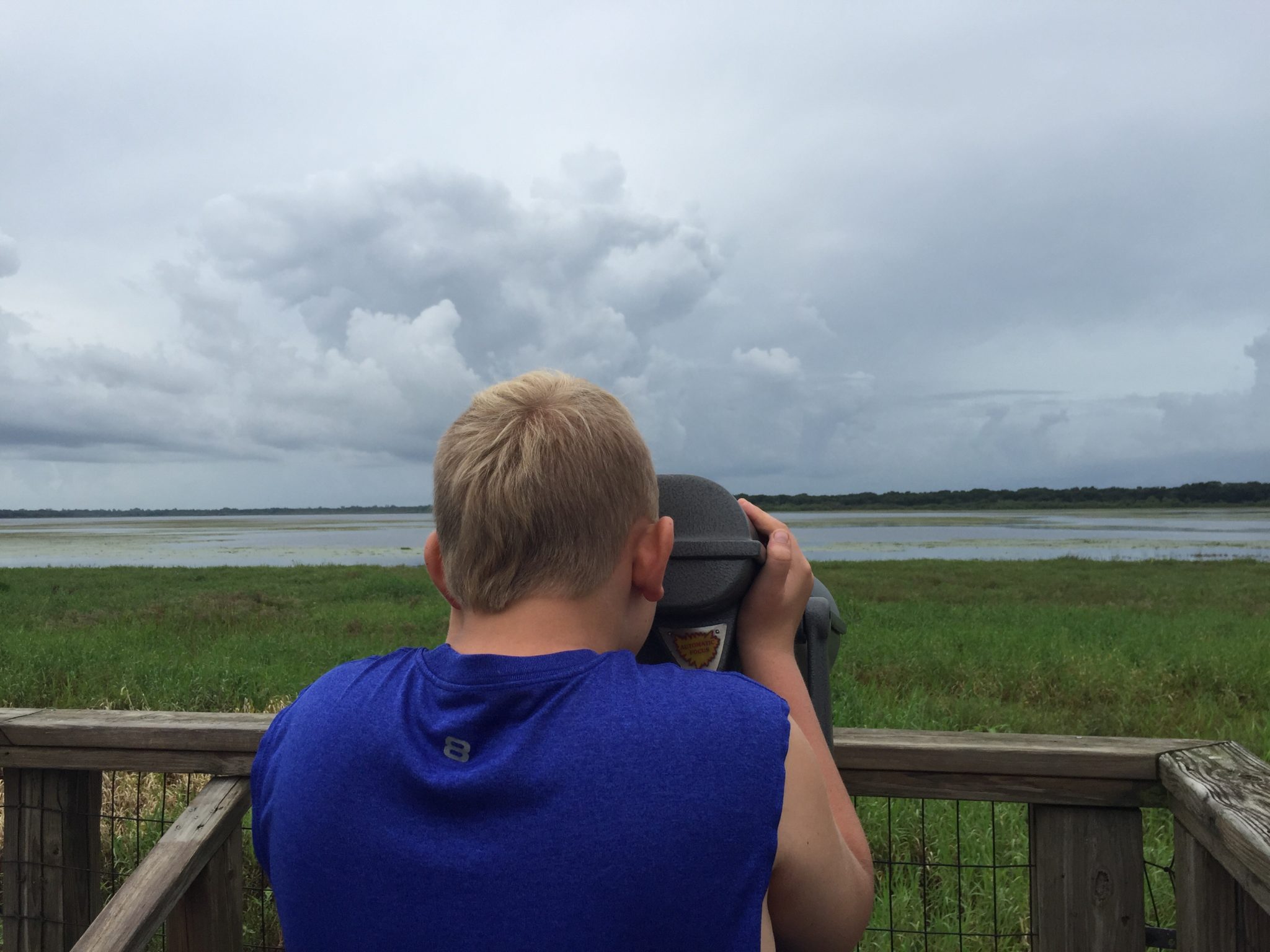 It rained nearly all day here in Sarasota. Benjamin woke up in good spirits, but with demanding hunger. I am thankful that he enjoys working in the kitchen. He had three healthy breakfasts before lying down for his first nap of the day.
I decided to distract Benji with a trip out easy to Myakka State Park. It's one of our family's favorite spots, and never fails to make everyone happy. We packed a nice picnic and headed out east, unfazed by thunderclouds.
By the time we arrived, I could tell that Benjamin was tired. He didn't get excited by the deer, or the sandhill cranes, or even the colossal alligators in the river. We passed the observation tower and the canopy walk, neither of which Benji wanted to tackle. We brought our picnic out to the bird walk, our favorite part of the park. I thought we'd do some hiking after refueling, but Benji fell asleep soon after we got back in the car. Lightning was striking down all around us. I cranked up the classical and drove my sleeping boy home.
Benji had seemed so down before his nap. I was relieved to see big smiles when he woke up. After we came home, the neighborhood kids came to play, which did more to lift his spirits. Hunger had returned by the time Michael came home from work, and Benjamin was moody and tired again. He took a third nap, a very short one, and we went out to dinner. He sleeps again now, just moments after starting a Friday night movie.
I pulled out my Childhood Leukemia book today to read parental wisdom on coping with steroids. There were stories of children having horrible hallucinations, of hurting people, of going to bed with loaves of bread hidden under their pillows. I realized once again how very fortunate we are. Truly, Benjamin is coping with his hunger and mood swings beautifully. I watched him at dinner as he waited for his sandwich to arrive. He was so patient, so polite, despite what must have felt like a desperate need for food. He is my constant inspiration.