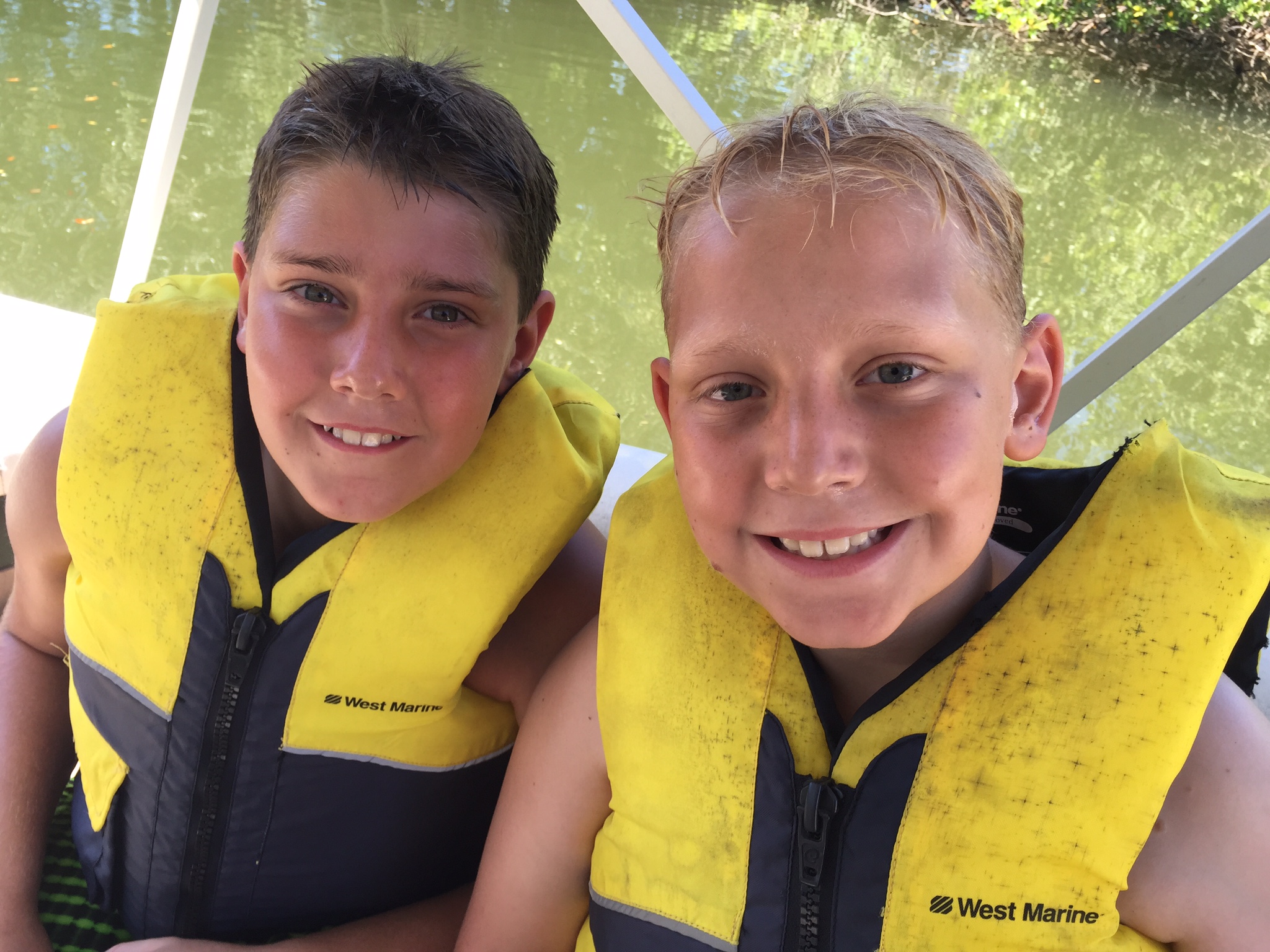 I woke up early, just certain I was forgetting something. Basketball game? No. Hospital? No. Birthday party? NO. There was nowhere we needed to be. So I went back to sleep on the first Saturday of summer. That has to rank up there among the best of feelings.
When Benjamin was first diagnosed, we borrowed an extra twin bed from Michael's mother and moved it into our bedroom. It was wonderful at the beginning, but he hasn't slept in that bed now in several weeks. When he needs us, he crawls in between us. And when he wants to sleep in his own space, he sleeps in the room he shares with Banyan. So today we loaded up the extra bed in Michael's truck. He took the boys and their swimsuits down to his mother's house to return the bed, and I stayed home to pack for Monday's hospital stay.
I printed out the packing list and started organizing, cleaning, folding, preparing. A little while later Michael texted me a picture of the boys in their life jackets. They'd decided to take the boat out for a spin, to make sure it was in good shape for Banyan's birthday a month from now.
I was extremely ashamed of my initial reaction: jealousy. I wanted to be there to experience the joy my children felt on that ride. I didn't want to be loading up the hospital bag. Again. I realized quickly how selfish and silly that was. Michael and his sister kept sending me pictures of the boys. I acknowledged the jealousy and released it, looking at their happy smiles. I won't always be able to experience my children's joys with them. But I can be just as joyful, knowing they are able to experience them.
Tomorrow we hope to get some beach time in before heading over the bridge bright and early Monday morning. Benjamin doesn't really want to talk about Monday, and that's fine. When it's time, I'll remind him that he's halfway finished with Interim Maintenance. Just two more hospital stays to go. We are armed with Kytril, Scopolomine, Marinol and Legos. We're ready.