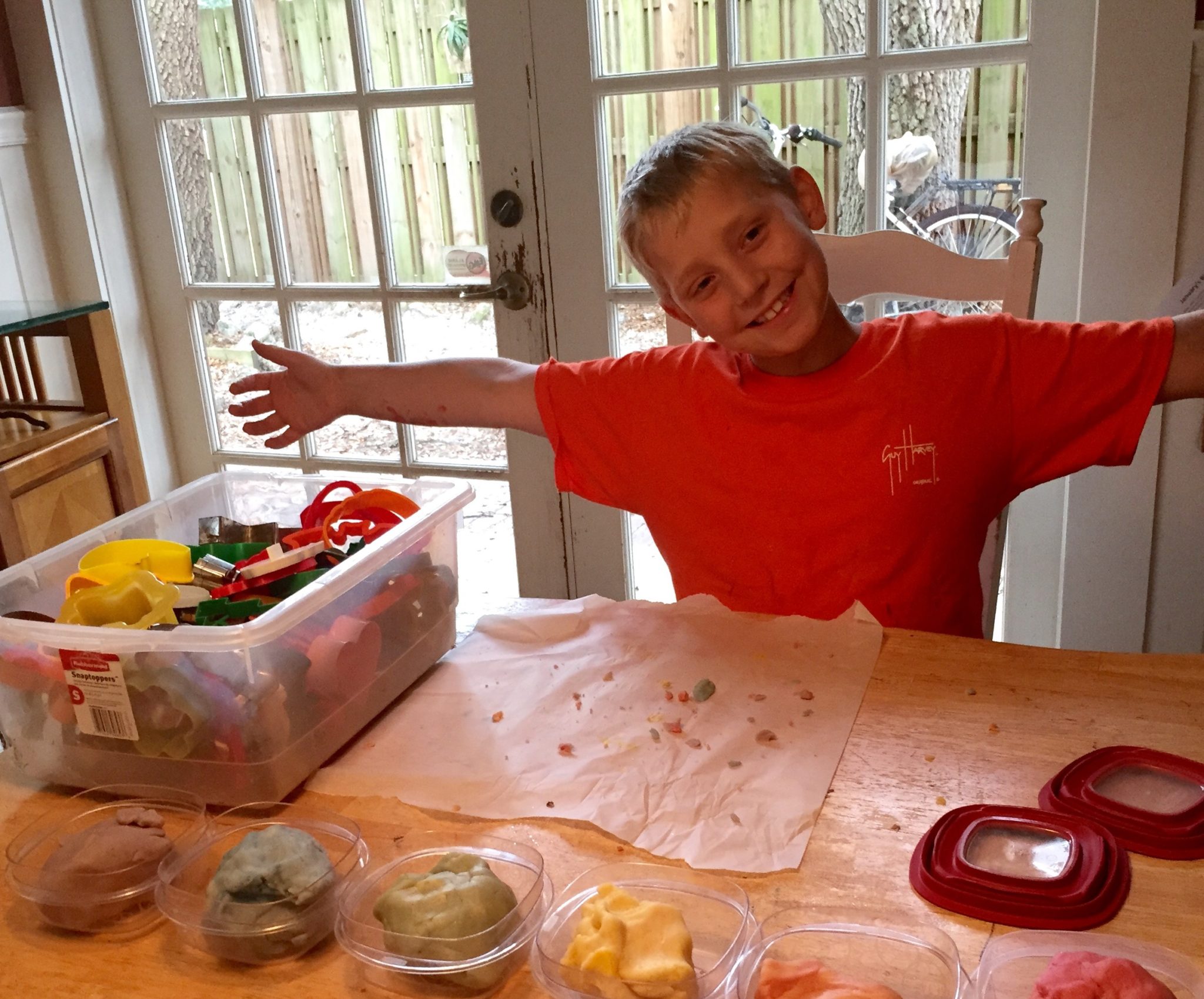 Our daily chemotherapy steroid, dexamethasone, is really revving up Benjamin's appetite. It's a far cry from where we were a few days ago in the hospital. This morning, before Banyan had even woken up for school, Benji had eaten a bagel with cream cheese and smoked salmon, nine strawberries and a green apple. He had a second breakfast after we dropped big brother off, then two avocados and a bowl of Greek yogurt to wash them down. I can't help thinking of the very hungry caterpillar.
The steroid is also revving up his emotions. Everything is heightened. He feels sensitive. I'm learning not to tell him too much about what the day will hold, or give him too many get well cards at once. We just take it one moment at a time.
On the advice of my sage sister, I drew up a routine for our weekdays at home. This way neither of us would get dependent on too much screen time for Benjamin, and we'd be sure to get in the exercise, play, chores, and school work we both need. I fully realize that today was the first day test driving this schedule, but it worked BEAUTIFULLY.
Once breakfast, medicine, second breakfast, dog walking, snacks and morning housework were behind us, we settled in to our first day of "homeschooling." I asked his wonderful teacher what the class was working on this week, and developed my own curriculum based on her suggestions. We played games with telling time, counting coins, and sight words. We did lots of reading. We made play dough in six colors for art and did two science projects. It was so nice to spend that time together, and reminded me of a time before my kids were in school. Messy hands. Lots of laughing.
The boy even rested according to schedule! He made it easy for me today. While he napped during the hour before we picked Banyan up, I made phone calls, scheduled follow up appointments, and did more research. I have several questions for the doctors tomorrow.
We will be back up at All Children's for a blood draw in the morning. I wouldn't be surprised if we stay for another platelet transfusion, though of course I hope his counts are up. I've seen a few new bruises and some pale expressions. Again, one moment at a time. In the morning, I'll use numbing cream on his port so they can access it painlessly. We bathed today and took off the final bandages. He's so tender there, physically and emotionally. So close to his heart, and such a heavy bruise because of his low platelet count. Several kind people have offered me energy work for him. We'll get there. I'm guessing that spot will be of major importance.
I never know anymore when the tears will be held at bay or flow like a river. Tonight, we were gifted a delicious meal from a sweet mother who lost her husband last year to brain cancer. This woman exudes grace and love. When I brought the crate of food into the kitchen, I started pulling out warm dish after warm dish–and she'd included everything, from paper plates to drinks to dessert and even flowers. I lost it right there in my kitchen.
So much kindness. The kindness is keeping us going. That, and one incredible little boy. I printed out a chart of alkalizing foods today, showing those that are best for his body to worst. He really paid attention. He's choosing (and preparing!) the right foods, taking his medicine easily, making sure hands are washed, resting when he's tired. I have so much respect for his independence and strength.