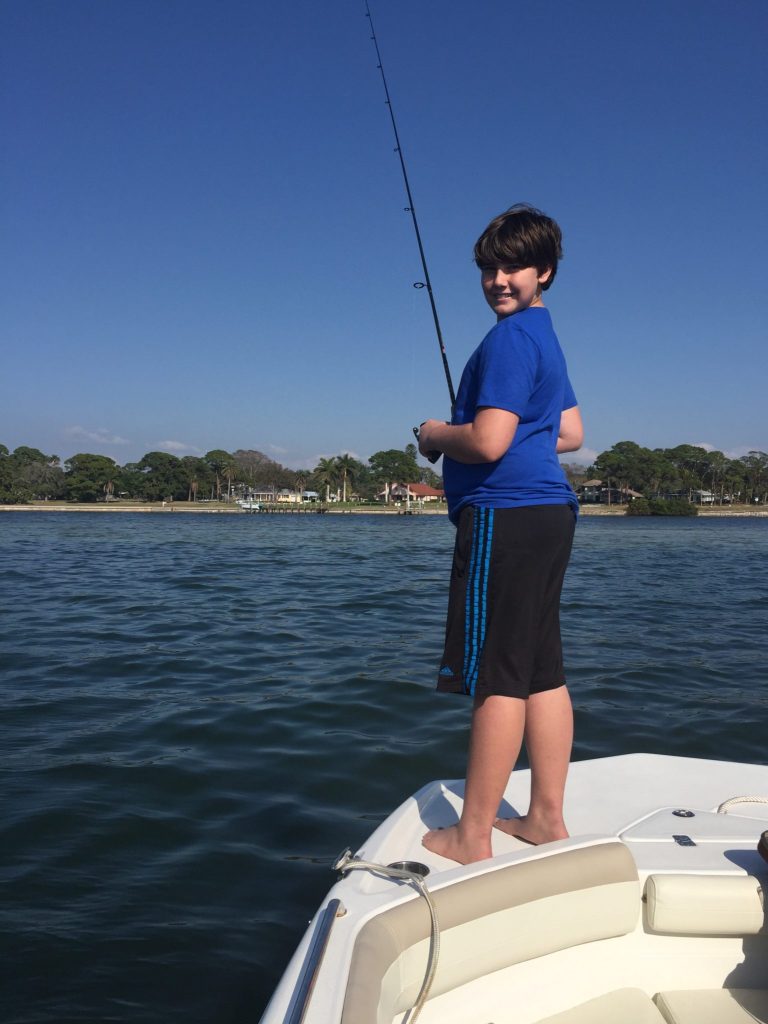 Michael and I couldn't sleep last night. We both reverted to hourly wake-ups. The first pot of coffee was brewed this morning at 5am. We'll get used to this, and it will eventually morph into some kind of healthy pattern, I'm sure. We vacillate between intense pain and a strange kind of numbness. Even though the numbness doesn't hurt, I prefer the pain. During the pain, Benjamin is present, even in his absence.
We have much to do to prepare for our final goodbyes to our son. But today, we decided to put all of the minutia on hold, and honor him in the best way we could–with a day on the water. A day of love. Kathy and Gana fed us and saw us off, and Michael, Banyan and I took the boat out into the Gulf to head north and try and find some fish.
A week before Benjamin relapsed, he and Michael picked me up on the boat at a downtown marina. It was very choppy that day, and Benjamin and I were laughing hysterically as we bounced with the waves. Today, on the Gulf, I remembered that moment and his laughter so specifically. I felt him so close. It was such a gift. My tears flew from my face, adding their salt to the sea.
Things are falling into place to honor Benjamin in private, public, and lasting ways. A community memorial service is being planned for early March, with details to come. For now, we would like to make a very special announcement.
The best way that we can honor Benjamin's unparalleled bravery is to invest money into research to try and ensure that another family in a similar situation finds hope where our hope ended. We also want to say thank you in a huge way to the literally hundreds of friends, family and community members who have lifted us up during this chapter of our lives. We hope that what we have created will accomplish both goals.
We are proud, humbled, and so honored to introduce The Benjamin Gilkey Fund for Innovative Pediatric Cancer Research, a brand new branch of the Johns Hopkins All Children's Hospital Foundation family.
Through Benjamin's fund, we will be able to support the research of Dr. Oshrine and his colleagues. We can create parameters that honor Benjamin's specific obstacles. And we know that the money we have invested will be housed in the new Research and Education Building, the structure we watched being built outside our window during Benjamin's final months.
If you would like to support our efforts, please click here. Be sure to put Benjamin Gilkey in the "In Honor of" or "In Memory of" category, so that the funds are directed appropriately. Alternatively you can mail a check to The Benjamin Gilkey Fund for Innovative Pediatric Cancer Research, Johns Hopkins All Children's Foundation, PO Box 3142, St. Petersburg, FL 33731-9954.
Benjamin was on treatment for Acute Lymphoblastic Leukemia for 772 days. During that time, he withstood the following:
1 surgery to place his port
1 surgery to place his apheresis catheter
1 nasoduodenal feeding tube placed and removed
1 cryoprecipitate transfusion
3 doses of experimental antibody therapy
3 peripheral intravenous lines placed and removed
6 bone marrow aspirates
10 days of immunotherapy
17 liters of blood apheresis
20 scans (MRI's, ultrasounds, x-rays, CT scans, EKG's)
24 lumbar punctures
24 doses of intrathecal chemotherapy (into spinal fluid)
25 packed red blood cell transfusions
72 doses of intramuscular chemotherapy (via shots)
75 platelet transfusions
100 doses of intravenous chemotherapy (via his port)
108 (northbound) trips over the Sunshine Skyway
178 nights in the hospital
247 doses of steroids
463 doses of antibiotics
470 doses of oral chemotherapy
We will never be able to think about what Benjamin endured without pain. But if we can ensure that his life will help advance care for future families, that is a blessing beyond explanation.