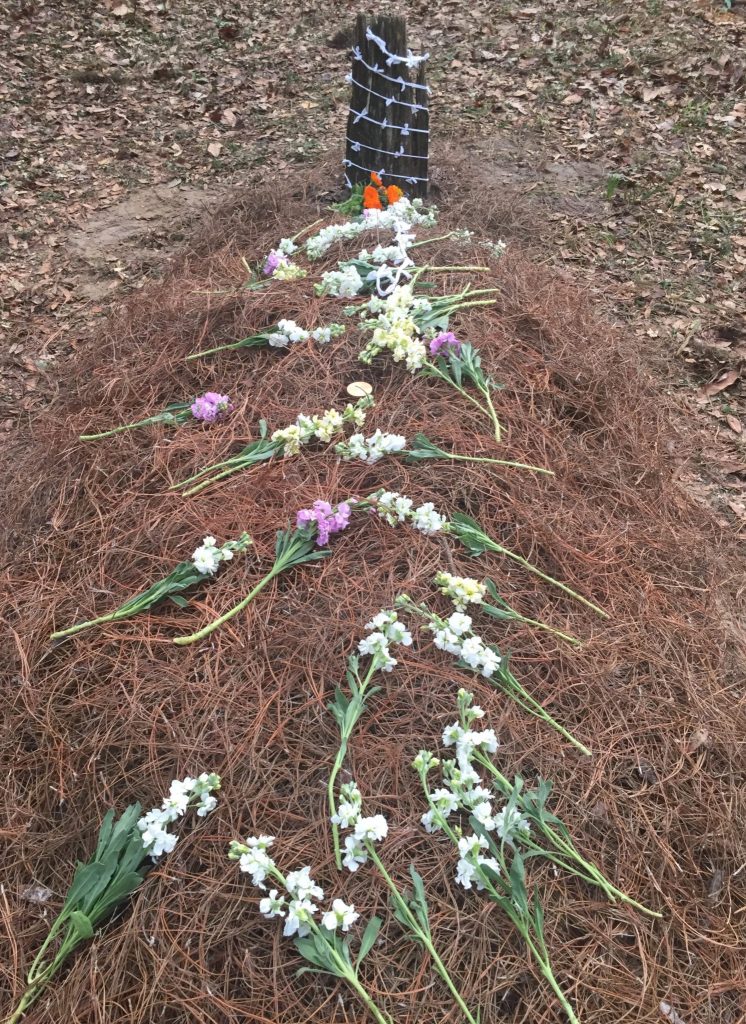 Nothing within us was prepared to say goodbye to Benjamin's body, yet it could not have been a more beautiful experience.
The pace of the day was slow and sweet. There was no rush. There was no stress. We woke up early, knowing what was ahead of us, and we took our time. We drank our coffee. Soon, we caravanned to the farmers' market, where our flowers for the day were waiting. They were gorgeous; stock, calendula, forget-me-nots. I pulled out my checkbook. No charge. People have been so incredibly kind.
We brought the flowers to the sweet restored railroad depot where our family would gather after Benjamin's burial. We returned to Sarah's house, and Michael, Banyan and I were given the space we needed to rest, to get ready, to be with each other. The rain came down sweetly and gently, with plenty of time to do its work before we needed to gather outside for ours.
The three of us left for the ceremony early, and the rest of our close family followed. The rain was gone. The sun shined through the trees. The hawks sang to us as we arrived. Banyan was really missing his brother, and he let his tears fall. I was so proud of his authenticity. We walked the path to the owl-blessed place alone, carrying the things we brought to bury with our boy. The conservatory volunteers followed soon after, with chairs, a table, some water for our folks. When the space was ready, we walked back down the trail to gather with our tribe, and to gather Benjamin's body to bury.
The funeral home director was lovely. He helped Michael and his chosen men lift the basket that held Benjamin's body and place it onto the funeral cart. The procession began. I was grateful for Andy's steadying presence beside me as I watched the basket in front of me make its way. I know it was just a body, just a vessel. But it was his body. The urge to wrap him up and rock him to sleep was a strong one.
The ceremony was intimate, intensely emotional, and so reassuring. Andy's words were perfect, a balm right to the center of my heart. The hour contained my father's guitar, readings from my sweet family, and the perfectly timed swoop of a barred owl, hooting loudly in the tree just behind us, blessing our ritual. It was a moment of grace and validation I will never forget, the rest of my days. It gave me just what I needed to release what I'd been holding. I was able to let go a little more easily, because it was so clearly ordained.
When the words were spoken and the tears were shed, the work of lowering and burying began. There is something so beautiful about taking part in this experience, for everyone. Michael, Banyan and I did our best to bless the space with special rocks, sand from our beach, dirt from Benjamin's placenta tree, his favorite bath salts, loquat seeds and acorns from our yard. Several family members helped to shovel the earth back over the basket. The sound of it was hard to hear, yet I couldn't imagine it done more respectfully, nor at the hands of more loving people.
Michael and Banyan scattered pine straw over the mound. I handed flowers to our family, and when the earth work was finished, the mound was adorned with white, pink, orange and blue petals. Michael found a makeshift petrified wood headstone, and Banyan and I wrapped Benji's prayer flags around it. Our family began their procession out of the woods. Michael planted native trees around the site. The sun sank beneath the trees. We took a deep breath, we held each other close, and we said goodbye to the body we created.
Laying Benjamin's body to rest, in a basket, wrapped in my quilt, surrounded by such love, blessed by the owls–it was so tender, so sweet, and so sad. I missed him. I missed his bright light. It's been a week since he died. I have never been away from him this long, and I will never see his body again. His goodbye was so beautiful, the words were so perfect, and still, it hurts so much.  
Our closest family gathered for a meal after Benjamin's burial. It was wonderful to hear laughter in the echoing room. We look forward to Benjamin's larger memorial service, where we can celebrate his life in a different way. For now, I am feeling so grateful for the beauty of this day. I am grateful for the opportunity to release, to be sad, to be surrounded by love and by owls. I am so grateful for Benjamin.