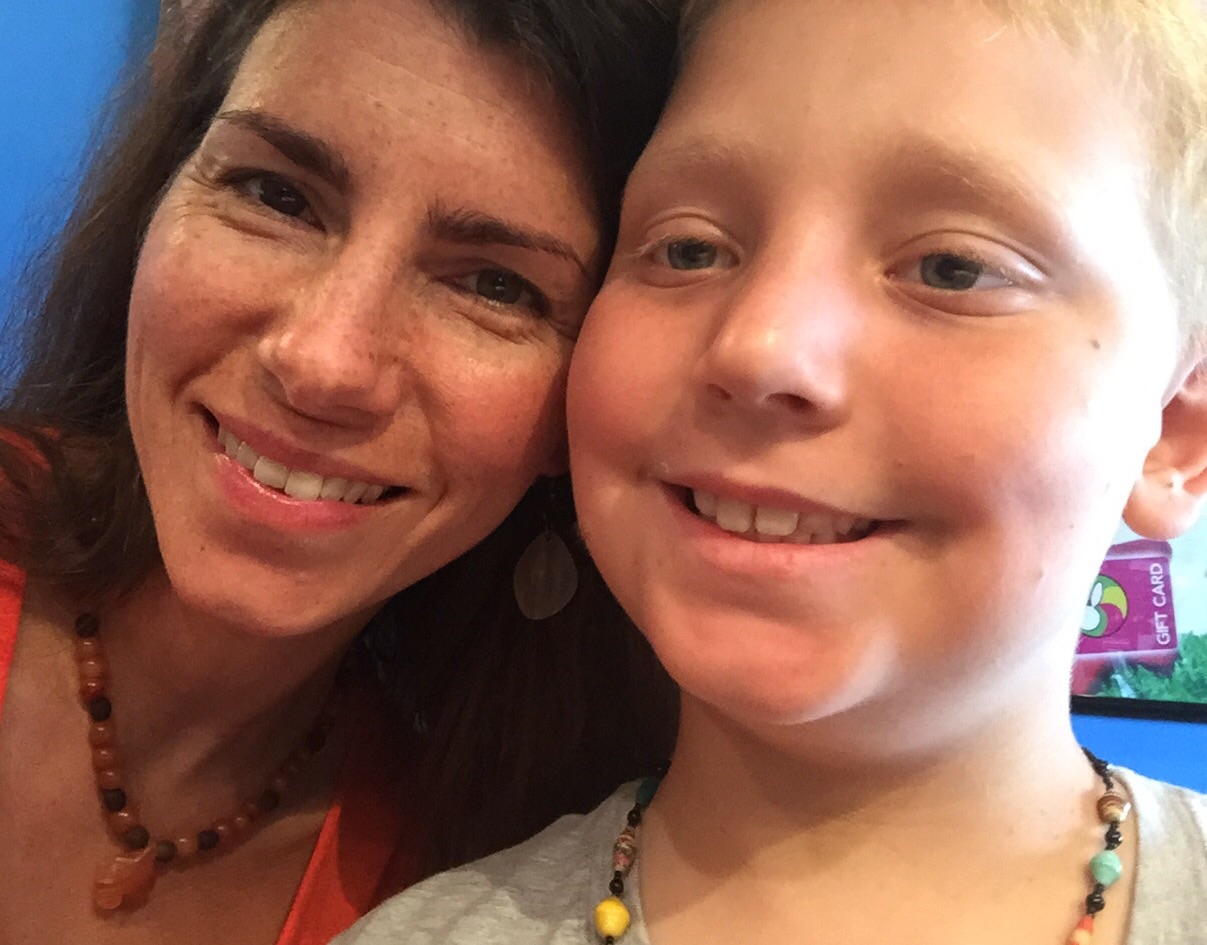 I reunited with the Ringling Bridge and my walking friend this morning before the sun rose. It's truly like hitting a reset button on my perspective. Going into today, I would need it. I know it kept me calm, to be up there in the quiet, leaving what doesn't serve me in the dark salty air.
Benji didn't feel well for most of the day today. He woke up with a tummy ache and stayed in bed almost all morning. I gave him the "day off" from school, in part to reward his amazing efforts, but also because I could see that it wasn't a good idea to push anything but rest today. He tried a little yogurt with granola mid-morning. On the way to clinic I got him a smoothie. He took one sip. He asked for Zofran as we were pulling into the parking garage of All Children's.
Dr. Oshrine recommended that we continue a nightly dose of  Zofran through the rest of this first week back on treatment to help with Benji's tummy trouble. I also brought a list of items I'd been researching to help detoxify Benjamin's liver. This has been a concern of mine since his dosages have increased; the oncology team assures us that minor liver toxicities are expected, and rarely present once treatment is over. Still, we want to help his body process this medicine as gently as possible. Dr. Oshrine approved all but one of the things I'd mentioned (curcumin, black cumin oil, and green tea); he'll research milk thistle and get back to me.
After the Cytarabine started dripping into Benjamin's IV, he said he felt lightheaded. He used the word "dizzy," and said his "brain hurt." I watched him carefully, but he didn't act as though he was in much pain, or having an allergic reaction. The symptoms dissipated and his vital signs were perfect. Our nurse suggested heavy hydration, which makes sense. He had also eaten barely anything all day.
Because of Benji's lack of appetite, I gave him his 6MP on the way back home over the Skyway. It was a good choice. He slept the whole way home, drifting off to the audio version of James and the Giant Peach. We found it online and started listening on yesterday's trip home. We've been on quite the Roald Dahl kick lately. Matilda is on the nightstand now.
Benjamin played basketball happily at dusk. We enjoyed a fine meal delivered by sweet friends, and Benji ate well. He felt better than he had all day long. His tummy began hurting again as he drifted to sleep, after Matilda, and after much tossing and turning.
My dear friend asked me today when I would return to the community radio airwaves. I know she meant as a guest, to tell the story of Benji's diagnosis, but I couldn't help trying to place myself back into the life I had before. It was an impossible exercise. Interestingly, I am not saddened by this. I simply feel as though I've been plucked out of one life and right into another. I once thought I may have found "my calling" in maternal health advocacy; now I realize that the idea of a singular calling is kind of misleading, if not detrimental. The Universe calls to us often. We just have to listen. I know that right now, I am exactly where I need to be.