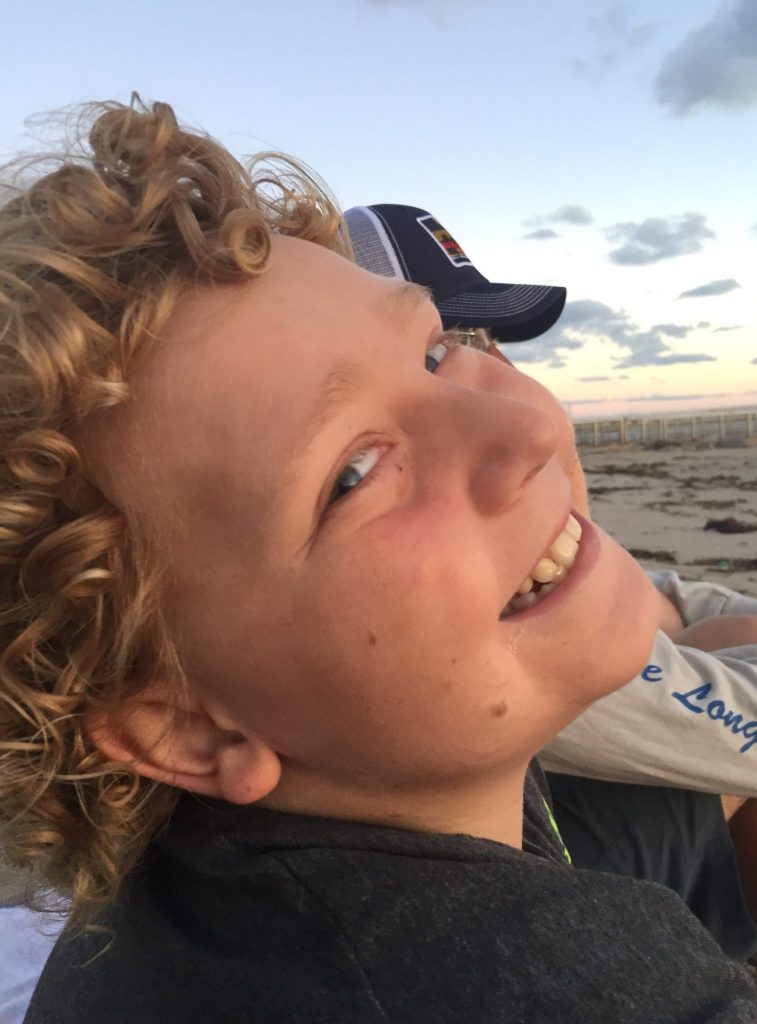 I knew that Benjamin would die today. I knew that I would walk outside and feel the Florida February sunshine on my skin, and he wouldn't, and I would feel guilty. Then I knew that he wouldn't need the skin. He is the sunshine now. 
We kept the music playing as we all tried to sleep last night. It didn't come easy for any of us. I held Benjamin's hand and felt his beautiful, pulsing energy as I finally drifted off. His oxygen needs escalated throughout the night, maximizing the capacity of his oxy-mask and causing us to switch to a non-rebreather. We knew it wouldn't be long. We listened and labored with Benjamin as his chest rose and fell.
He worked so hard this morning. He tried to lift his body up even as we were begging him to relax, even as the jaundice was setting in and his eyes were bulging with yellow. There is no one, ever, in the history of the world, that was a tougher fighter than this kid. He tried so hard. We were begging him to let go, and I'm so thankful that he finally did, after Versed and Ativan and Dilaudid didn't cut it. It was his decision. His hands grew cold and rainbows danced around the room as his sweet spirit left his body. Banyan lay his head on his brother's chest and said, I hope you have some good dreams. And just like that, he was gone.
I was surprised that my first reaction to my son's departure was bliss. Once I realized his heart stopped beating, I kept saying, I'm so happy for you. I'm so happy for you. He did it. No more pain. Only love.
Then, when Dr. Moore came in to pronounce Benjamin dead–the same physician who pronounced him sick–I felt certain I would pass out.
I stayed to wash his body, which was getting colder and more stiff by the moment. When our sweet nurse helped turn him over, I was given the gift of warmth along his back. I pressed my face into it. I anointed it with oil. I tried to impress its contours inside my memory, forever.
The nurses gave us Benjamin's final Beads of Courage, and helped us pack our bags. When all of our things were out of our room, and Michael and Banyan had said their final words, I stood over my son's body. I was quiet for many minutes. I finally decided on I love you, and thank you, and left in waves of tears. On the way to the elevator, Banyan rang the bell for his brother. He is finished. His work here is done.
When the doors to Michael's truck closed, and we knew we had to drive home, we were brave. When we pulled into our driveway, and we knew he would not be there, we were brave. He showed us how.
Banyan was so tearful. We all gathered around videos and pictures and tried to keep memories alive. We loved and laughed with each other. I gave into the moans and wails when they needed to come. I am begging now to remember the smell of his skin for the rest of my days.
We have contacted our spiritual advisory council and plans are being made to honor this boy as we lay him to rest. I am trying not to think about the years I won't have with him, but instead remember the years we had together. Beyond any of the pain I am feeling is a sensation of deep pride and love. We did it. We saw him through. And we will miss him so, so much.