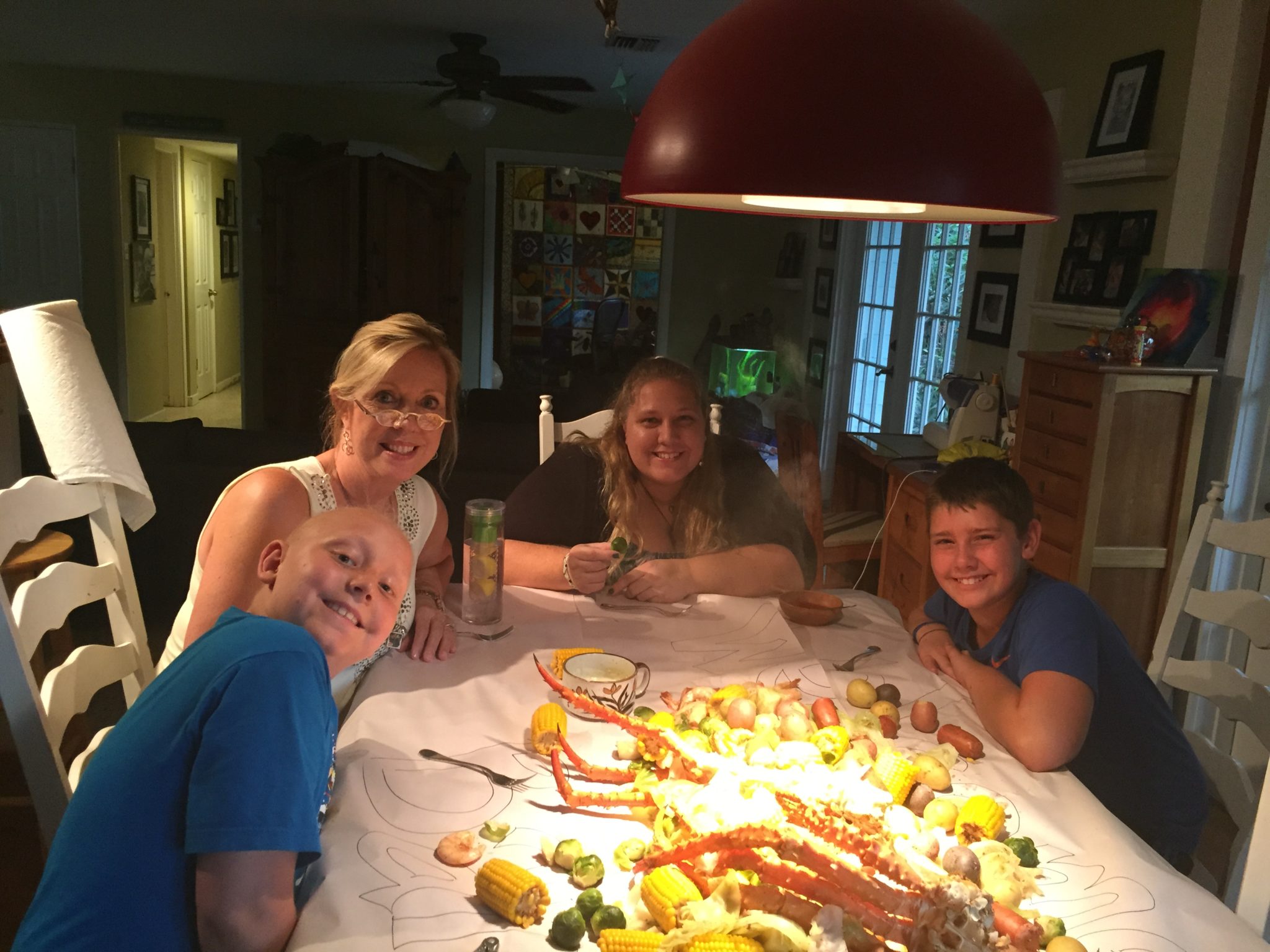 Banyan promised me last night that he'd join me for a sunrise bridge walk, and he made good on his word. The thought of waking so early again any time soon doesn't appeal to him, but he's agreed to one sunrise a week. I'm going to hold him to it. It was the best possible way to start the day.
We came home and made breakfast, then loaded up for All Children's. I had intended to bring Banyan with me. I wasn't ready to let his face out of my sight just yet. But one of his best buddies invited him over for the morning, and I couldn't say no. He was so excited to see his friend. Benji and I dropped him off and hit the road.
The waiting room on the Hematology/Oncology floor was so busy we had to stand against the wall. There were six charts ahead of Benji, and we were on time for our appointment. This has never happened before. We sat within earshot of one family who was clearly very new at this. I think this was their first time in the clinic. I saw the mother furiously writing things down in a big notebook. It brought a lump to my throat. Her son was in a wheelchair, having just recently had his port placed. She was asking him about his nausea, his pain, writing down what time she gave Zofran, etc. A Child Life representative was talking them through the process of applying numbing cream. She recommended Press 'n Seal. Benji got called back to clinic then, just as I was mustering up the nerve to walk over to the table, tell the mother about the transparent dressings I'd found online, and put my arm around her shoulder. It'll have to wait. I'll be keeping an eye out for her.
Everything took a little longer than usual today, presumably because things were so busy. Krista was our nurse again and asked us the usual questions. Before Benjamin's Cytarabine was wheeled in, Dr. Hale came in to see us. He's the head of the department, and we don't see him often, so I spent some time getting him up to speed on Benjamin's progress. We discussed yesterday's lumbar puncture. We talked about the infection risk that will be heightened as Benji's absolute neutrophil count (ANC) drops. We talked about the next two weeks of Erwinia shots, which prompted a deeper discussion that Michael and I had started with Dr. Oshrine.
I had told Dr. Oshrine that I didn't realize Benji would have TWO rounds of the shots in the next phase, bringing the total number of shots he has left to receive to 36, 18 in each leg. Dr. Oshrine told us that we could now choose an intravenous alternative. It has been approved by the Children's Oncology Group and by the FDA since Benjamin was diagnosed. Both medicines work to suppress the body's natural production of the amino acid asparagine, but the intravenous version has been shown to allow a lapse in this suppression during the weekends when shots aren't administered. The difference is minute, but long term efficacy hasn't been studied, and according to Dr. Oshrine, it's likely it won't be–there are far more pressing matters that will absorb the time, dollars, and, most precious, patients, that are available to oncology researchers.
As much as we crave and appreciate Dr. Oshrine's clinical, research-based explanations, I realized today that Dr. Hale can offer a perspective that Dr. Oshrine simply cannot. Dr. Hale is a father. He can begin sentences with, "If it were my child…" Those words have the potential to hold more weight than any study. Michael and I had already decided that since Benji the Jedi has developed the mental capacity to endure the shots, that we would continue along that path, and be grateful that there is an alternative should we need one. The decision did hold a little bit of guilt for me; we were offered an alternative that would spare our son 36 long needles in the legs, and it was a tempting offer. But my conversation with Dr. Hale today cemented our decision. He said that if he were the father making the choice, he would want to control as many variables as possible. Given Benji's abilities and the research that does exist, he would make the same choice that Michael and I had agreed to make. It was a very reassuring feeling.
Benji's Cytarabine arrived. He used his oils through the flushes and sat through the fifteen minute drip without issue. He used his oils again through the heparin and we were free to leave. By the time we left, all of the nurses knew that we were having a low country boil tonight, in honor of Benji's big brother returning home from camp. Benji slept all the way home.
We picked Banyan up from his friend's house and spent the afternoon in blissful normalcy. The boys played together and with neighbors, I did chores and was able to work a little bit, and we prepared for dinner. We ended the day with a bountiful pot of delicious tradition prepared by Michael, and a table full of family.
My mind is racing tonight, but I find I am able to calm myself easily, a skill I didn't possess last week. Maybe it's the time away from the online moms' group. Maybe it's having Banyan home. Maybe it's the savoring of these last weeks of summer. I don't know. But I'm grateful for it.