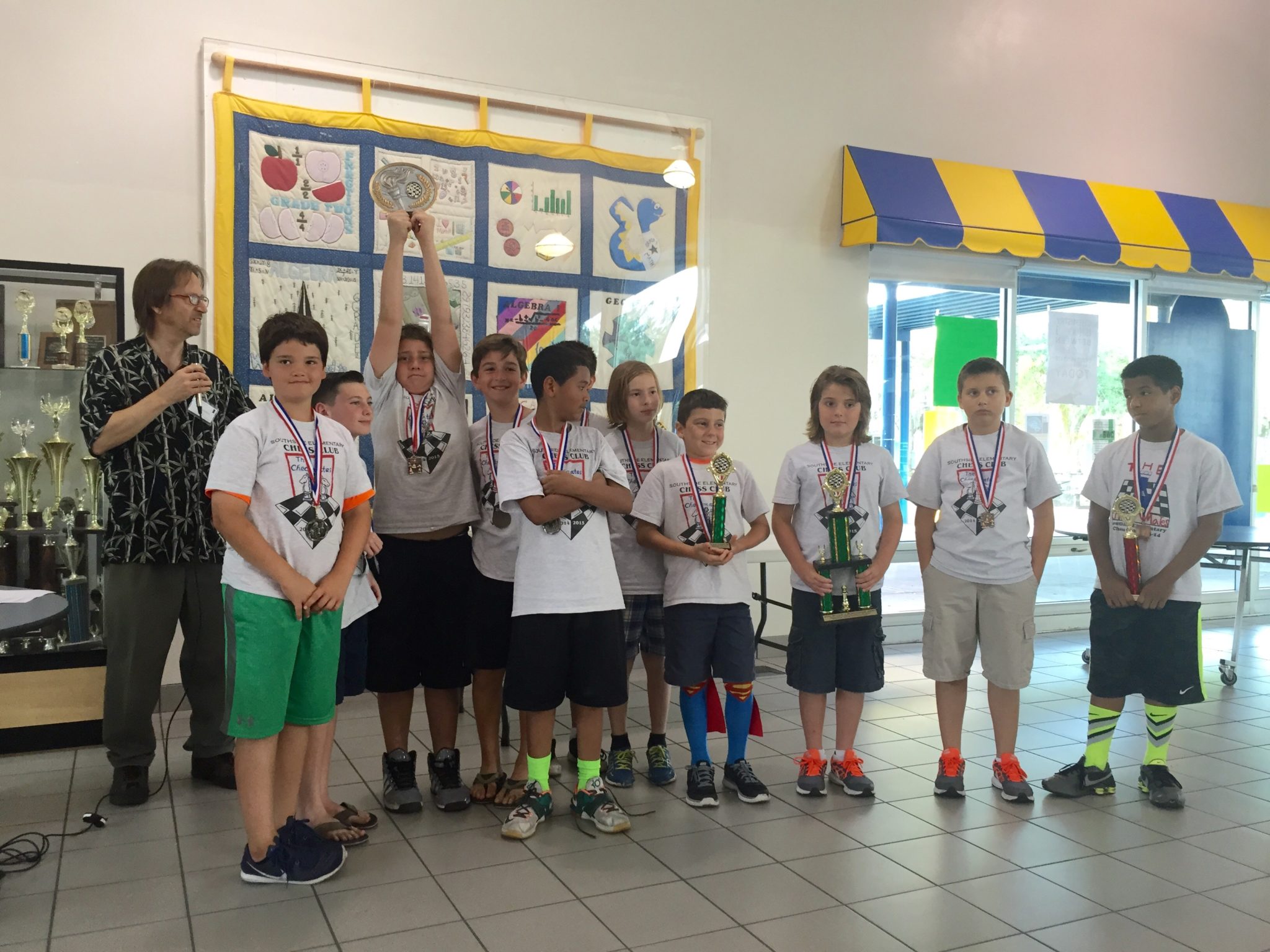 Banyan started the chess club at his elementary school three years ago. Beginning as a small group of kids playing casually after school, it has grown into the biggest club in the county, and the team has several trophies to show for it. Today was the final scholastic tournament of Banyan's elementary career, and his last with the team he helped build. It was a big day.
The tournament was very close to Michael's mother's house. She made us a huge Cuban feast for lunch before game time. It was delicious, and we were reminded yet again how fortunate we are. We even got to see Michael's aunt for a few minutes before we left. Then we rushed to the tournament, where Michael and Benjamin dropped us off before the first match. They would meet us a few hours later for the awards presentation.
I helped coach the chess club weekly until Benjamin was diagnosed. Being able to attend the entire tournament and watch these kids play felt wonderful. Banyan put a lot of pressure on himself to take home an individual trophy. He really wanted first place; he has come so close so many times. I wanted it for him too. The kid's had a lot of obstacles to overcome this year. But today wasn't his day.
After Banyan's second loss, when the possibility of a trophy dangled beyond his reach, we took a walk. I reminded him that we all have off days. I told him how proud I was of what he'd created, and that I hoped he would would walk back into the tournament and look at all of those Southside t-shirts and realize what an amazing seed he planted. I hope he heard me. I know it was really hard for him to lose. I also know he learned some strong lessons today.
One of the first things I noticed when we arrived at the tournament was that one of the players was sick. His mother said he hadn't been feeling well, but he desperately wanted to play. While I admired his perseverance, I couldn't help cringe at the constant coughing I saw. Everything is so different now. I see door handles, countertops, and sniffling children as tickets back to the hospital.
We will never be able to prevent sick people from coming to public places, or to sanitize all of the surfaces all of the time. I chose not to confront the mother, who herself had a tough decision to make today. And I wasn't about to pull Banyan from his last tournament. All we can do is be as preventative as possible on our end of the equation. So Banyan washed his hands before and after each match, and followed each hand washing with sanitizer. He tried to keep his hands away from his face–a nervous habit he has during chess matches. Michael and Benji stayed far away from other folks when they arrived to pick us up. Banyan hit the showers immediately when we got home. Everyone has dosed up with immunity boosters. I just hope what we were able to do was enough.
The Southside Checkmates took home the second place team trophy. It was quite an admirable showing among some tough competition. When it was time for the award to be presented, Banyan hoisted it as high as he could above his head, surrounded by his teammates and wearing a proud smile. It may not have been the moment he'd hoped for, but he made the absolute best of it.