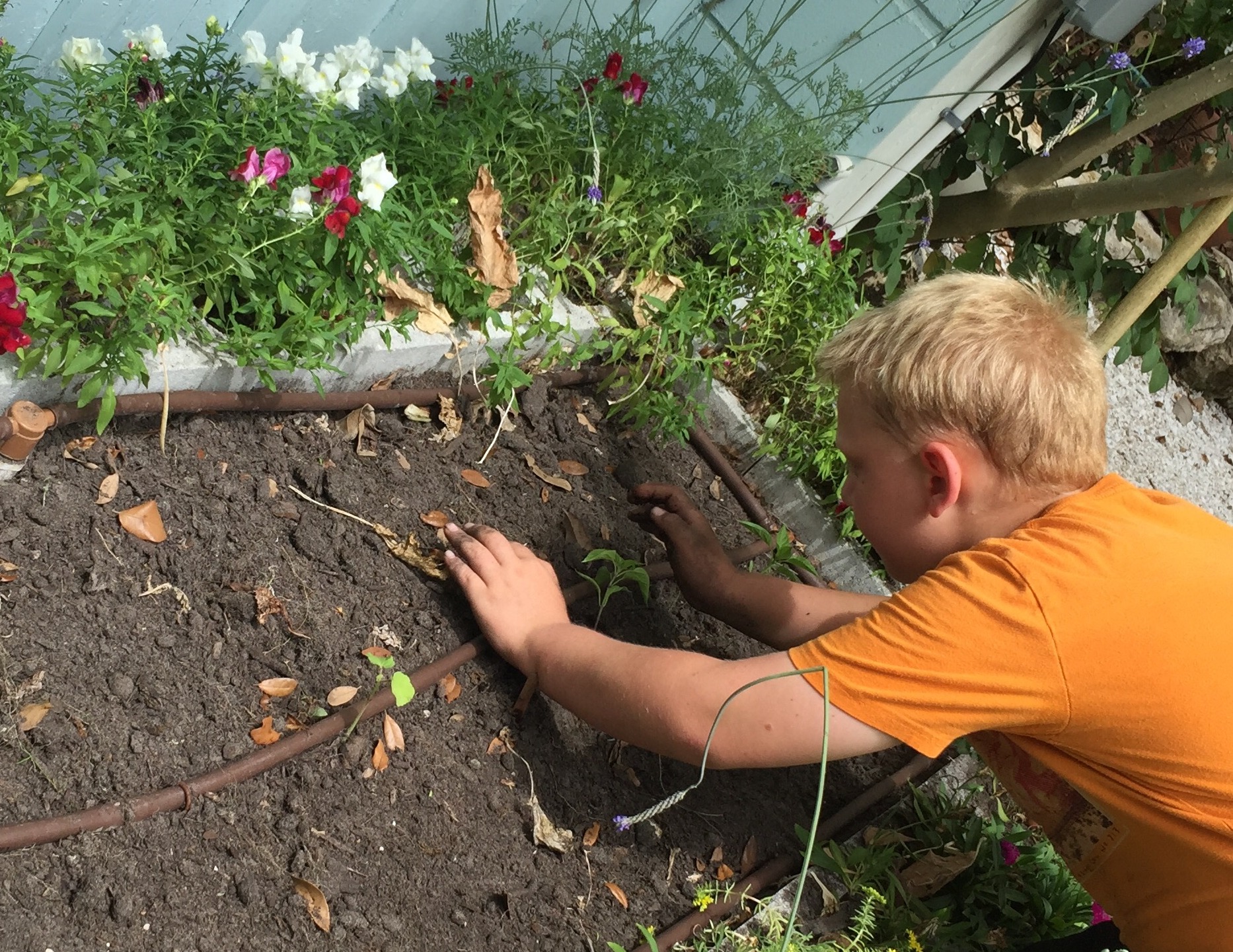 Benjamin wasn't feeling well after breakfast, and then again after lunch. The past two days have found him focused and energetic about his schoolwork; today he could hardly tackle a page of it. We are ahead of schedule, so after one assignment, we took the day off. We finished Matilda instead. We're blazing through Roald Dahl; I think The Fantastic Mr. Fox will be next. Also on deck are the BFG (a thoughtful gift from Banyan), and Charlie and the Chocolate Factory. I love Roald Dahl. His consistent underdog-turned-hero theme is working quite well for us these days. After we read the last chapter of Matilda, I rewarded him with the movie version. We started it this afternoon and finished it with Banyan after dinner. Benji loved it. He especially liked the idea that a normal kid could have superhuman abilities.
We spent some time outside today, working in our little garden. Michael's edible landscape specialist came to bring us some extra seedlings for summer. Benji loves to play in the dirt. I was careful to wash his hands thoroughly afterward. He planted a tomato, some peppers, sage, cilantro and basil. We moved our composter next to the garden and turned the soil, ready to begin again.
I continue to be concerned about Benjamin's liver toxicity. His color is off to me, and has been all week. I have the milk thistle on my counter, next to a myriad of other remedies, but I haven't given him the tincture yet. I am still waiting for the oncologists' blessing. I am frustrated by my own lack of confidence. I know I should give it to him. Why am I waiting? What am I afraid of? I just want to make sure it's not chemoresistant; even innocent things like folic acid and now fish oil can have properties that make chemotherapy less effective. But I've read the studies on milk thistle, and I've seen the evidence in other families on the moms' group. For things like this that may come up in the future, I will be requesting an email address I can use, to send studies and run things by the doctors. I mentioned milk thistle weeks ago. I will have an answer tomorrow.
We will have other answers tomorrow, too. If Benjamin's absolute neutrophil count (ANC) is high enough, the oncologists may move forward with scheduling his bone marrow aspirate for next week. If it's still low, we will be put on hold, and find out when they'd like to check his blood again. Either way, tomorrow Benji will get his last shots for at least two months. He'll have had twenty four. He'll be deaccessed for the weekend. It will be a good day.
I'm thankful for my mother-in-law, who came at once when I needed childcare to run an errand today. I'm thankful for a friend I hardly know who made her third delivery of backyard eggs, and a friend I've never met who dropped off a delicious meal with a sweet Gator hat for Benjamin. I'm thankful for a gorgeous Sarasota sunset that found me on top of the Ringling Bridge with my friend. I'm thankful for a new bag of raspberry lavender tea leaves. I'm thankful for my husband, working late into the evening tonight.
We checked in on the two other families we know with children who share Benji's diagnosis. Both boys were not feeling well today, one with nausea, and one with severe pain. I am sending them big love tonight, and feeling big gratitude for my son, who, like Matilda, sometimes seems superhuman.