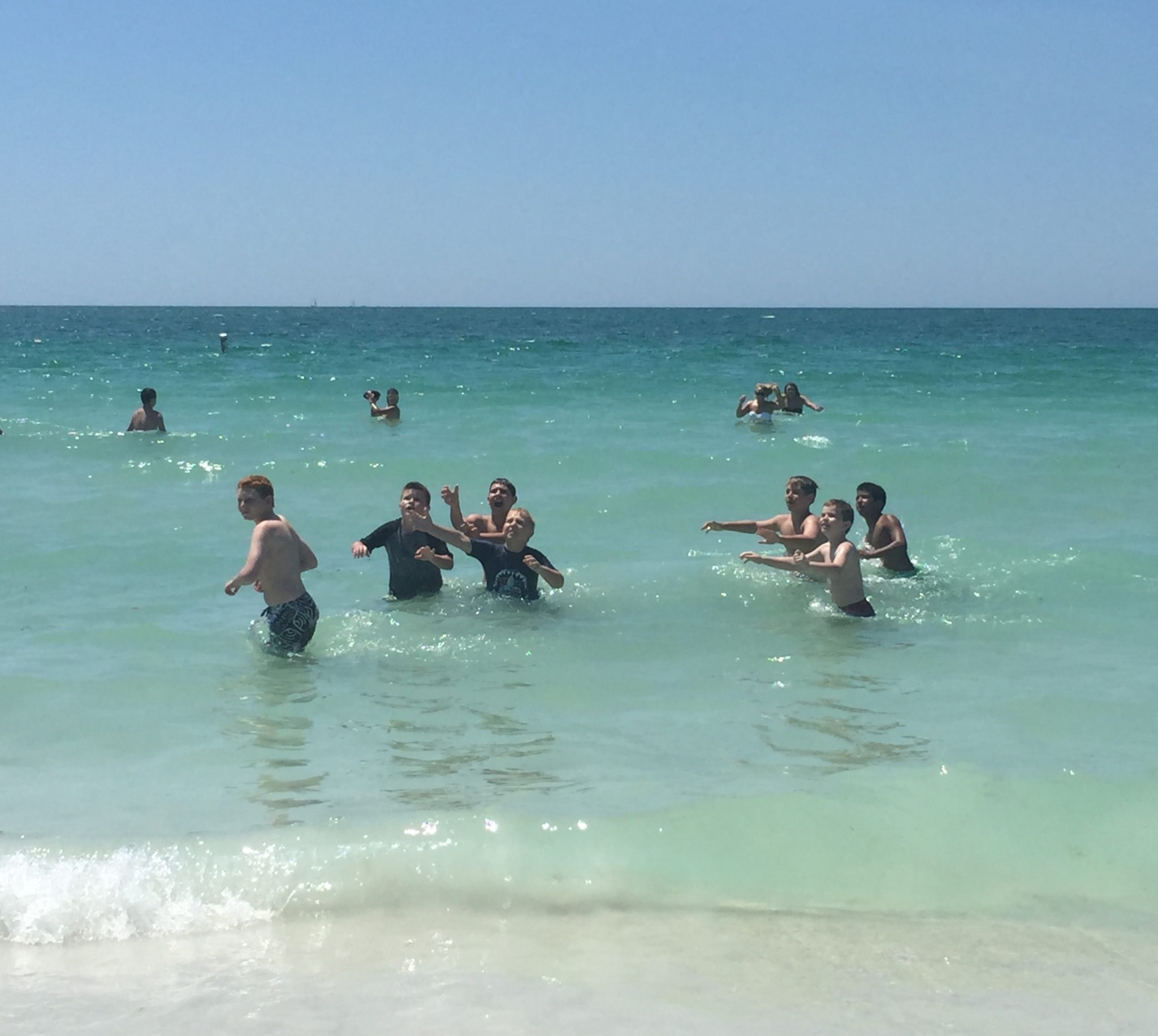 Good Friday indeed.
The boys let me sleep in until nearly 9am. It was heavenly. We packed a cooler and some beach towels and met a few friends at Lido. I checked the bacteria advisory–all clear–and packed the sanitizer and the Zofran before we left. I tried not to be too much of a helicopter mom. It was hard at times; Benjamin played football with some kids I didn't know, and at one point he actually pet the head of a wild sea bird. We sanitized often, but I tried to relax and enjoy the brilliant color of the water, the conversation with my mama friends, and the view of my boys playing football, swimming, building sand castles. It was absolutely gorgeous, and Benji felt terrific.
In the evening, Michael and I decided to join some dear friends for a bike date to a nearby restaurant. I believe it's only the second time we've both been away from Benji all year. I almost said no to the date; my argument was that we need to be ready to move immediately if Benji spikes a fever. But I also realize there is a flip side to that coin. Chances are we will be spending some time in the hospital soon, so why not take advantage of opportunities at normalcy while we can? We stayed just a couple of blocks away from home, and we enjoyed the company of our friends very much. We were home before it was time to give Benji his oral chemo. He sleeps soundly now. It may have been a little bit hard for me to relax into it, but I'm so glad we went. Michael's mother and sister jumped at the chance to come and be with the kids, and they all had a great time. We are so lucky.
Three times today, I ran into people I haven't seen in months, people who have obviously heard about Benjamin's diagnosis. Their reaction to seeing me is always the same–the excited "hey!" that comes with not seeing someone for a while, followed by the sympathetic "how are you doing?" that comes with a head tilt, to let me know they know.
My response is also always the same. "We're doing great!" And we are. We are all so grateful to be together, here in this city on the beach, in the springtime.