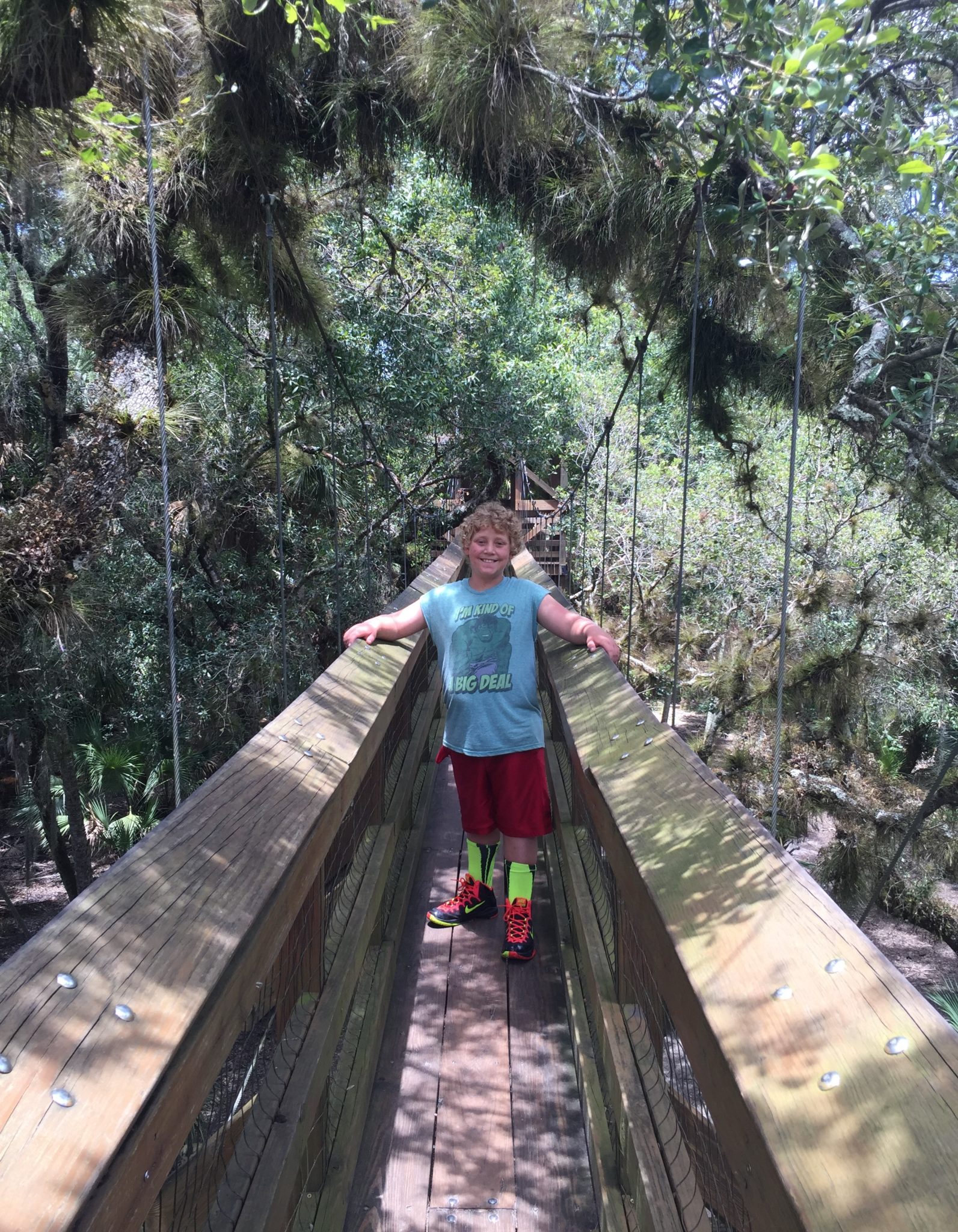 Benjamin has been in the long term maintenance phase of treatment–and off of the seventh floor at All Children's–for nine months. I had to do the math twice, I couldn't quite believe that was accurate. In another month, he'll be halfway through treatment, and he'll have been in maintenance for as long as he was in frontline, which seems insane to me. Time works differently now, there's no question about it. I wonder if it always will.
Speaking of time, since early May, Benjamin has grown a full two inches. It's unbelievable how tall this summer has made him! Again, I find myself questioning what role chemotherapy plays in his growth; was this a regularly scheduled eight year old growth spurt or is he making up for lost time? Either way, he's quite proud of the fact that he's as tall as Banyan was when he was a year older than Benji is now. I wonder if Banyan has had a growth spurt of his own up at Camp Highlands. We'll find out in just nine days.
Since Benjamin is going to be the face of One Blood for September, I've been on the phone a bit with their marketing team, scheduling video shoots and getting parameters for some copywriting I'm doing for their materials. Benji was with me of course. Today he asked, "What do platelets do again?" It was clear he'd forgotten a lot of the basics of how leukemia works. I re-explained everything. I used the comparison of the potato vine at our local park. The potato vine is taking over and choking out the native vegetation there. It may look beautiful at times, but it has to go, because the good stuff that belongs there can't grow and do its job. When the leukemia cells were taking over Benji's marrow, the red blood cells and white blood cells and platelets couldn't grow. They couldn't do their jobs. So he needed to get them somewhere else. We currently can't manufacture blood and platelets–they have to come from a compatible human body. Nineteen times Benji needed transfusions. Nineteen strangers (at least) are part of the team of people that conspired to heal him, and we'll never know who they are.
Tonight a group of my girlfriends are at a concert up in Tampa, with a hotel suite to follow. There was a ticket with my name on it. I refused. I wanted to want to go, but I just didn't. The idea of being home felt much better to me. I'm grateful for good friendships that allow me to be honest about this. It's something I'm working on, for the benefit of my relationships with people other than my children. Michael and I have plans to be away from town, sans kids, in October, and it's already causing me great anxiety. Whenever I see any mention of the trip I get tightness in my chest. The truth is–I don't want to go. I understand the value of time spent with the adults in my life and I am working on it. But being far away from Benji right now doesn't feel relaxing at all.
Benji and I went to one of our favorite spots in the world today, Myakka State Park. We walked the Canopy Walk, climbed the observation tower, and spotted hawks and alligators. We even heard a barred owl. It was a million degrees outside, but it was nice to park, unplug, and listen.