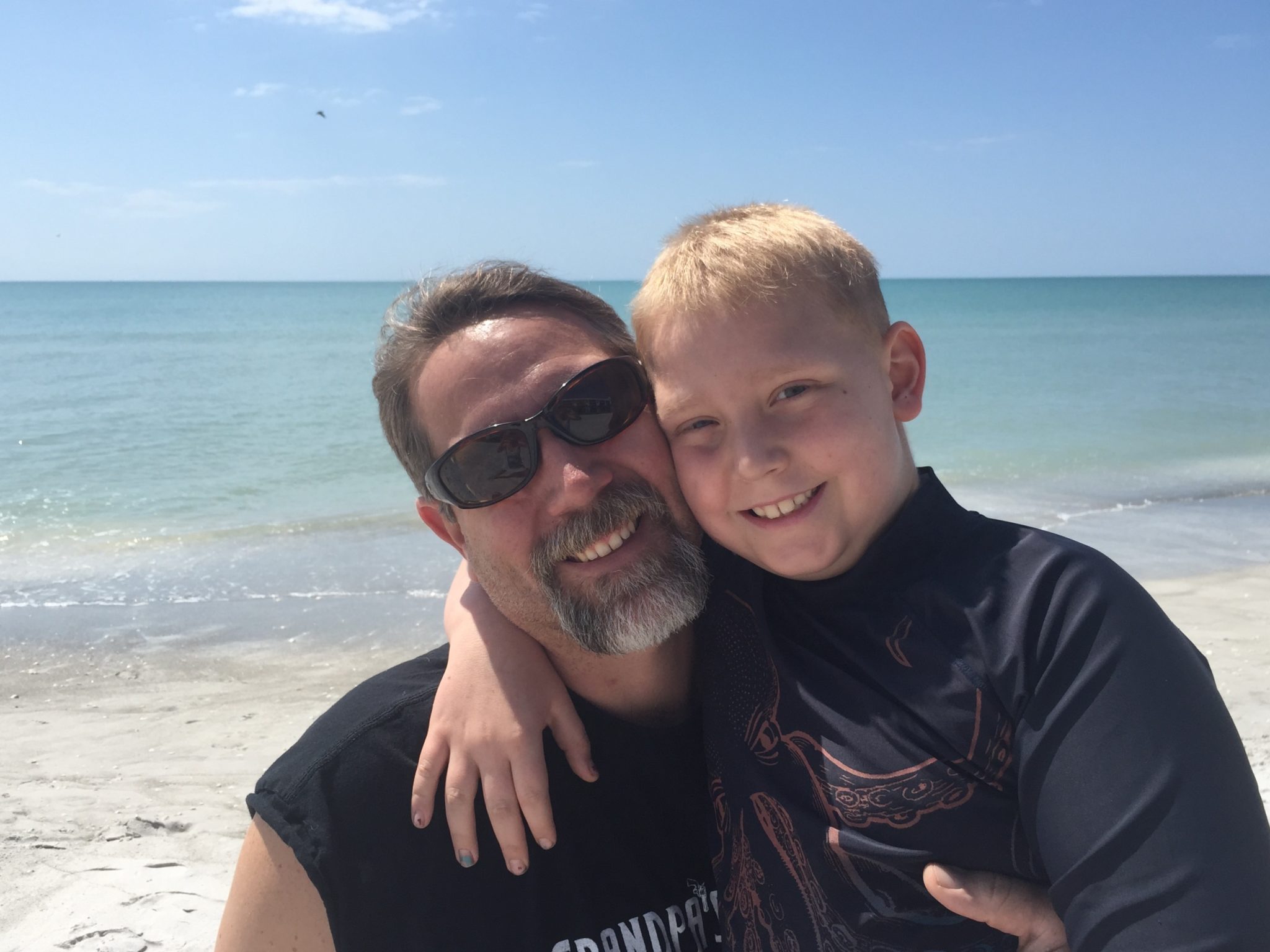 Today was full of so many emotions. Overwhelming gratitude was at the top of the list.
Michael's mama and sister brought over a phenomenal brunch this morning, complete with more sunny daffodils. Then they got ready to take Banyan and a couple of his buddies to the "Bags 4 Benji" Cornhole Tournament, a fundraiser organized by some very sweet friends. The event featured live music from two of our favorite local bands, food, drinks, face painting, a raffle, and an appearance by boxing champion China Smith. We'd heard the boxer was coming, and that he wanted to give Benji his autograph. Benji thought he should give China his autograph in return. He signed a picture, and we said goodbye to our family. The weather was absolutely perfect for an outdoor affair.
Benjamin knows the medical reason he couldn't go, but it wasn't easy for him to understand today. It wasn't easy for Michael and me either. Throughout the afternoon, we got dozens of photos from friends and family at the event. The pictures showed so many people we love in one place, just a few miles away. It felt strange not to be there. We wanted to be able to hug everyone, to feel the collective energy of their kindness, to say thank you.
With each picture that came in, we second-guessed our decision; but when we stood back from the emotional pull, we know we made the right choice. We have to protect Benjamin's immunity right now. Missing out on group gatherings at times, even when they're in our honor, is another uncomfortable reality about Benji's journey, but it's one that will make us all stronger. Knowing that all of those people were there supporting us–just as they were last weekend in Gainesville–is a lesson in trust and gratitude, both of which we're experiencing at record levels lately.
We thought some saltwater healing was the perfect prescription for the day. We tried our usual spots, but Spring Break created huge crowds, just the thing we were trying to avoid. Michael remembered a tiny beach access on Longboat Key that is rarely used. It was perfect. Parking was ample and close, and we had a nice wide berth of sand to ourselves. The water was much colder than my comfort zone, but Benjamin braved it instantly. No surprise there. Michael followed quickly, and I finally made three. Our boy was so happy.
Grammy and Noni brought Banyan home and gave us many sweet gifts and a full report from the event. I'm so grateful that our family was represented so powerfully; so grateful they could be there to say thank you when we can't.
We'll head over the bridge bright and early tomorrow. Benjamin's blood draw will determine the course of our week. Either we will begin the second half of the Consolidation Phase, which will find us at All Children's for the next four days, or he will have a week's delay (at least) in chemotherapy. We're learning to have no expectations. We told Benjamin at dinner that we know he will get exactly what his body needs: either a round of new medicine, or a little break. Either path will be healing in a different way.
Benji fought sleep hard tonight. His body was hurting. He said he felt "weird all over." Whether it was from the active afternoon at the beach, or the chemo, or the cancer itself, I don't know. He sleeps soundly now, wrapped in more love than he could possibly understand. It's healing our boy, this big love. He doesn't even realize yet what a powerful force he is. But one day, he'll be blown away.