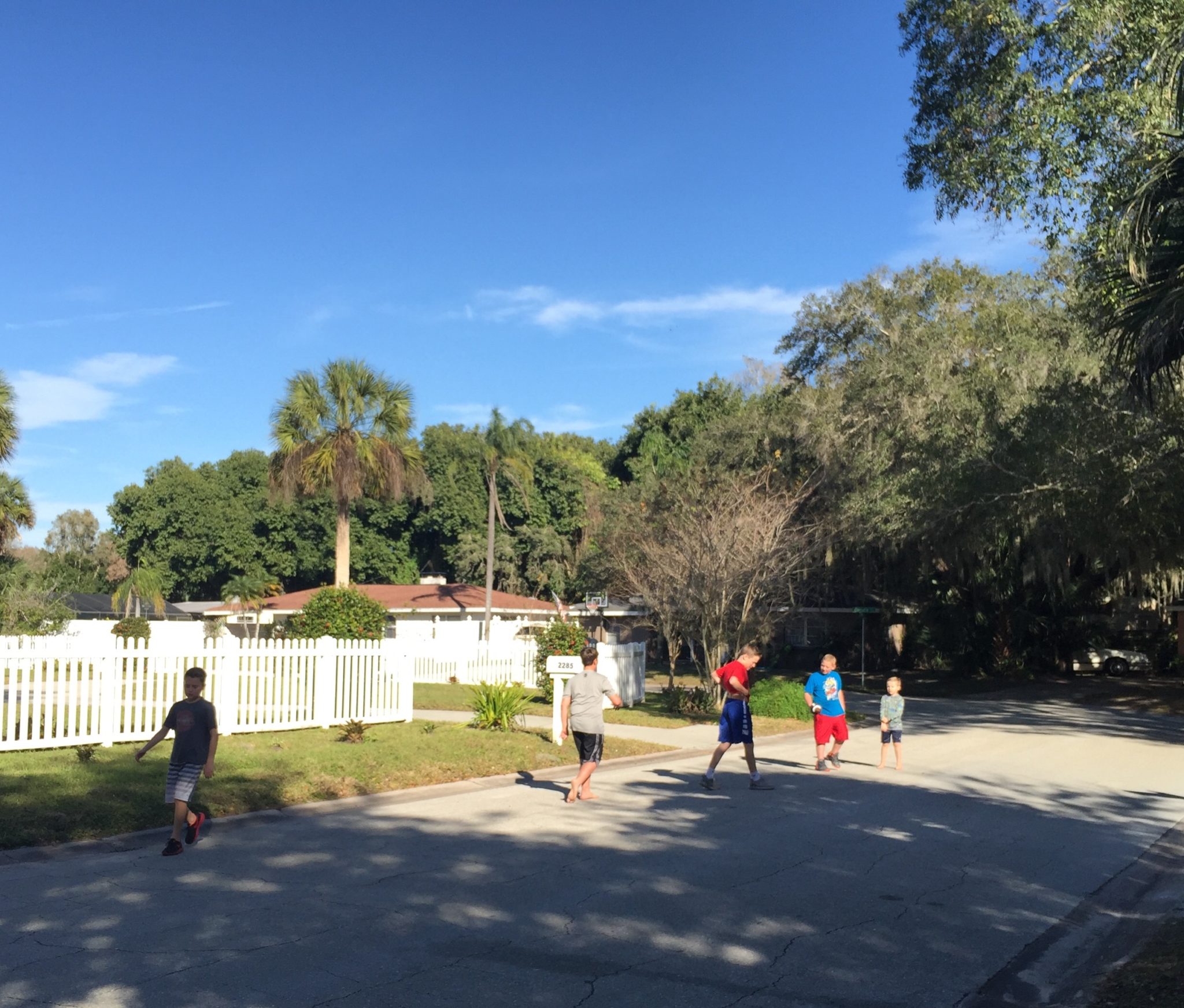 The boys enjoyed a Monday off from school today in honor of Dr. King. They played outside in the cool sunshiny morning, then spent the afternoon with friends at a local indoor trampoline center.
Apparently every other mom in Sarasota had the same idea as we did. The place was packed, and we saw many familiar faces. I sprayed the boys down with sanitizer and reminded Benjamin to disengage from dodgeball if it looked too rough. I claimed half of a bench where I could see all of my people, and started a new knitting project.
I was happy to see a sweet friend arrive halfway into our bounce session. She's a thoughtful and insightful person and our encounters, though few and far between, are always rich. She has followed Benjamin's story and understands my need and inability to let go of a lot of what I've been holding this year. She also told me I look tired. Usually when someone says that I get offended. Somehow, her voice made me want to cry. Like she really recognized the tired. I don't even recognize it anymore, I just feel like it's perpetually following me around. I left solidly affirming to make sleep a paramount priority, even at the expense of other seemingly responsible things.
On the way home, I listened to the happy noise of five boys chatting over bad commercial radio pop music. I heard Benjamin tell his buddy he wasn't going to school tomorrow, and honed in on that conversation. He said he had to go to the hospital, and that he probably couldn't play when he came home, because he wouldn't feel well. Then he almost proudly described the size of the needle that will be inserted into his spine, and the color and viscosity of the propofol that will put him to sleep. The backseat got quiet for a moment. He is educating so many people.
I made sure the boys had a hearty dinner, as Benjamin won't be eating in the morning. Tomorrow begins his second 84 day cycle of long-term maintenance. He'll have his blood drawn for a CBC and a complete metabolic panel. He'll get Vincristine intravenously, then head down to the special procedures unit for his lumbar puncture with Intrathecal Methotrexate. He'll start a five day pulse of Prednisone and end the day with his oral chemotherapy.
This is the longest distance between lumbar punctures in Benjamin's treatment to date. I wonder how his body will react. We'll have soup in the crock pot waiting for us when we get home, with golden bone broth and potassium-rich canellini beans. He has hydrated heavily today and will have his arsenal of detoxification rituals at his disposal tomorrow. I'm considering a scopalomine patch in the morning as well. I'm a little nervous for him but I know he will be a rock star like he always is. And Michael will be with us. Benji's daddy always makes him feel strong. We'll be one day closer, together.