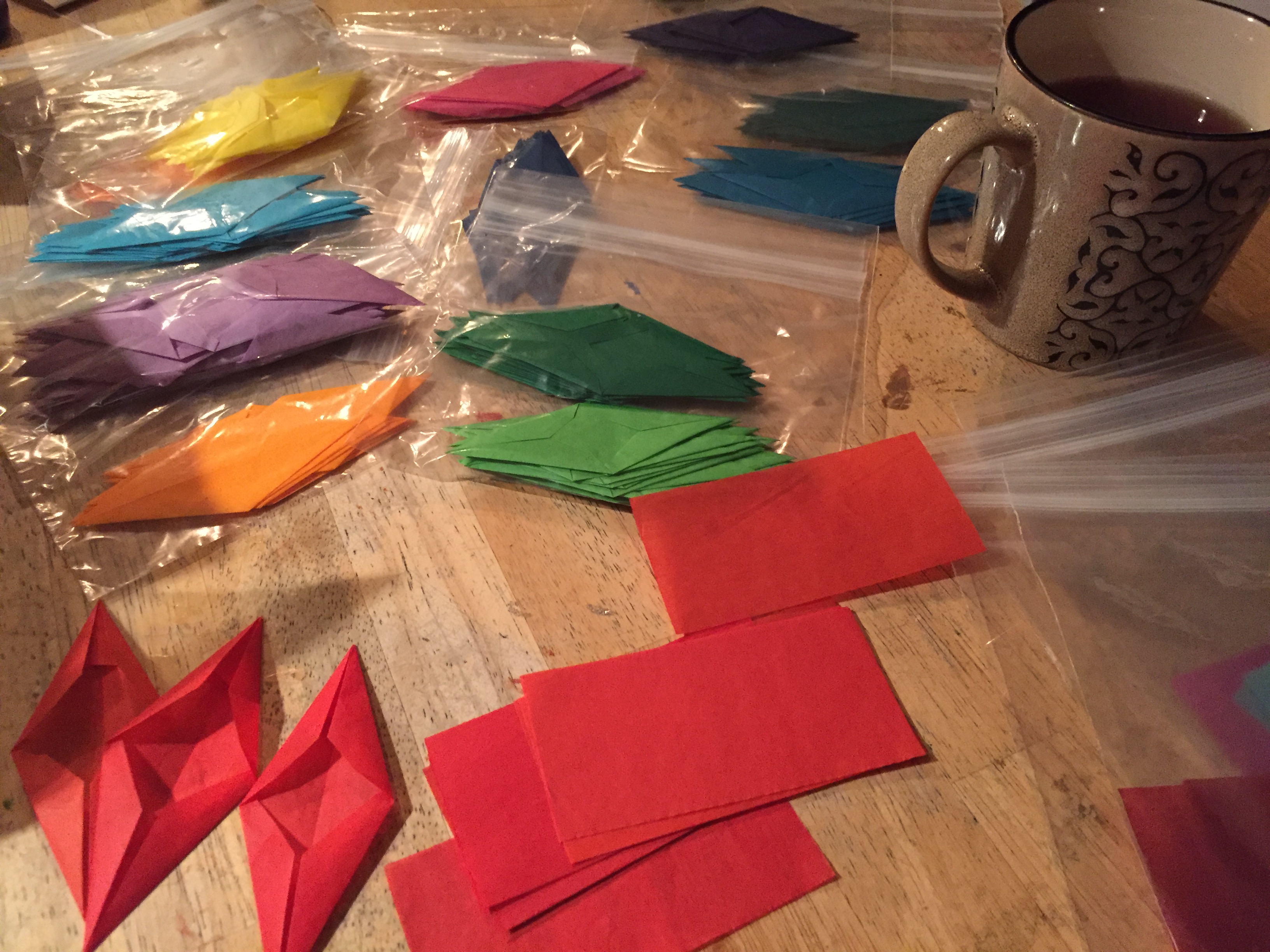 We had a sweet day on the homefront. Banyan biked to a friend's house a couple of blocks away this morning, and Benjamin had a friend over for most of the day. He was so excited. While they played, I cleaned. I couldn't get the Christmas decorations down quickly enough. I love them. But I'm ready for a fresh start, and a new year.
Benjamin has the puffy cheeks and swollen belly that follows a steroid pulse. It reinforced my excitement for a fresh start. We have been extremely lenient on nutrition this holiday season. I look forward to kicking off our family exercise regimen in January, and to implementing our meal plan for 2016 based on Benjamin's treatment calendar.
Michael surprised us all by cutting his Georgia trip a day short, and pulling into our driveway just after sunset. We were so happy to see him. After dinner, the boys and their daddy watched Star Wars (Episode 1) and I continued making progress on my craft project. I'm making rainbow window stars for the rooms on the seventh floor, and delivering them on New Year's Eve, along with a trunk load of toys. Benjamin was given so many things this year, from such generous friends. But we have too much, and many duplicate gifts. Three people also dropped off toys to me today to add to my pile.
I asked Benjamin if he wanted to ride up to All Children's with me when I deliver the gifts. He thought about it, then said, "Nah. I'll stay here." I don't blame him. He's spent quite enough time there for one year. I, however, am looking forward to it. Just today I read another post in my online moms group from a terrified mother, one whose little boy was diagnosed last week. She's a young mama, he's her only child, and he's just thirteen months old. She said she felt like she was living someone else's life. That's exactly how I felt. I wanted to wrap her up in something warm and comforting and beautiful. Instead, with the rainbow stars, we can infuse a teeny bit of beauty and warmth into those rooms on the seventh floor, onto those huge windows overlooking the Skyway, the windows through which mothers will stare for hours like I did. That will feel so good.