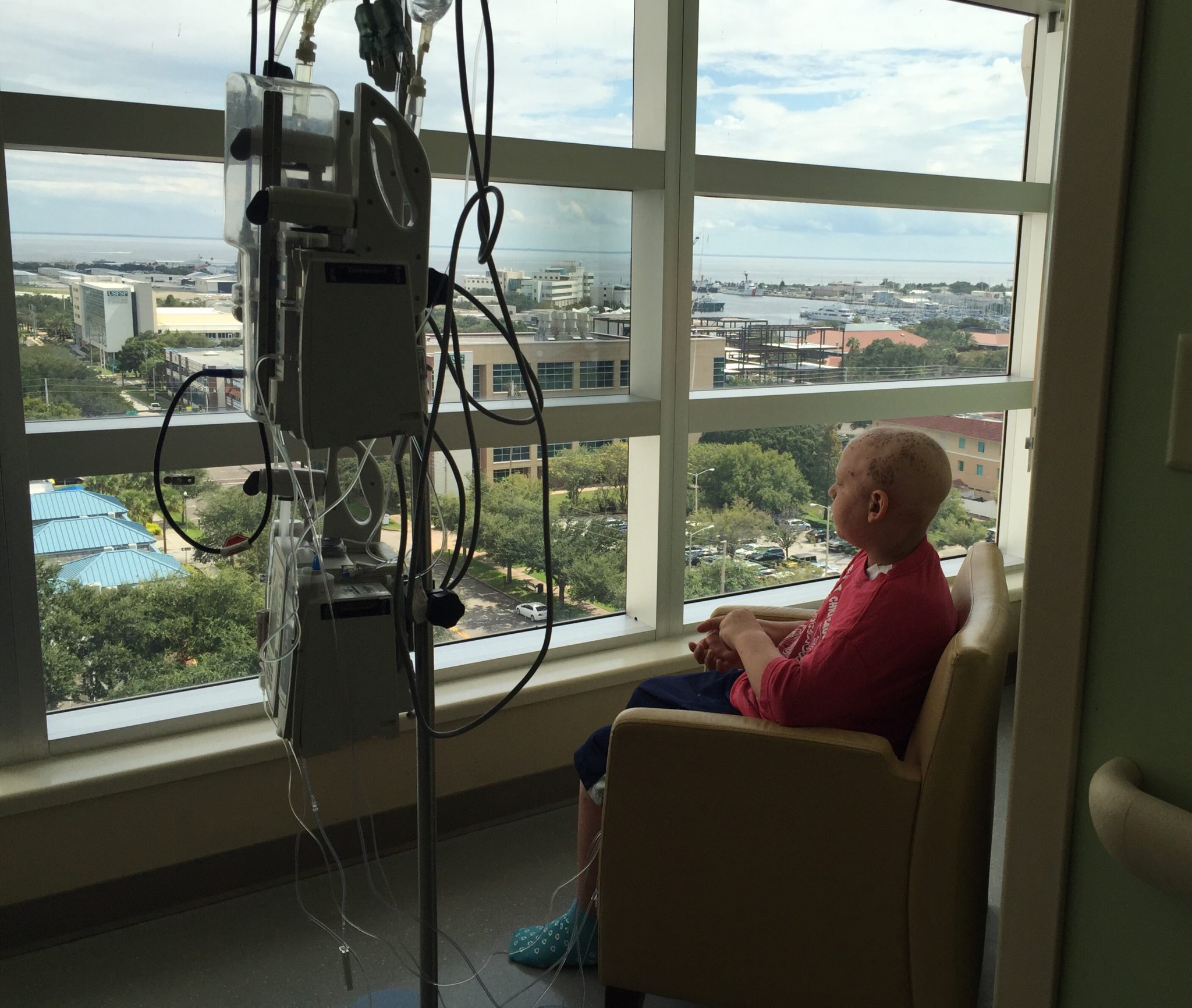 Benjamin is no longer in isolation. He has been fever free for well over 24 hours, and his latest swab came back negative for rhinovirus–he doesn't even have a common cold.
This news brought a light and lively mood to morning rounds. Benji's creatinine level continues to decline; today it was 0.75. His kidneys have regained more than 80% of their function. His absolute neutrophil count (ANC) has climbed to an extremely healthy 2,310. If he maintains these trends tomorrow, Dr. Wishnew will be comfortable ending his Neupogen as well as his prophylactic antibiotic. The IV pole will finally start to be less cumbersome.
Benji's cough persists, but his lungs continue to sound clear to every stethoscope that hears them. His oxygen levels and resting heart rate both dipped once during a morning nap, but it was an isolated incident. His coughs are productive and I feel comfortable with a close ear on his lungs and the oxygen monitor on around the clock.
With all of these benchmarks met, the only things separating us from the All Children's exit door are Benji's abilities to eat, to properly digest and eliminate his food, and to feel strong again. His painful lips, mouth and tummy are still prohibiting his valiant efforts to eat. So today, we focused on strength. Benji had a full session with his physical therapist. He spent time on the couch and took a nice long bath. And once Michael arrived and learned of our new freedom, we all ventured outside of our room, and Benji walked the halls of the seventh floor for the first time in weeks. He didn't walk a full lap, and was in tears by the time we were finished. But the steps he took were huge.
I am seeing hopeful signs that Benji's gastrointestinal tract is on its way to healing. His bowel movements are normalizing. He has tolerated glutamine for two days straight, and I know it's helping. His interest in food is very much there, and his nausea is totally gone. And he's trying so hard to let his mouth heal. We will not push it. He'll let us know when he's ready.
While Michael sat with Benji, I took a much needed shower. I appreciate this simple act so much these days. I was also able to catch another afternoon nap. Michael had brought Benji a gift from a friend at home, a gorgeous new set of headphones, and Benji watched a full length movie with them on. He spent more daytime hours awake today than he has since we've been here.
My dad came to visit from Alabama this afternoon and filled our room with the sweet sounds of his Taylor guitar. Kathy and Gana came later with Banyan and another delicious meal. Just before bedtime, my sister, niece and nephew arrived and brought a big jug of Gainesville water to add to Benji's collection. There is so much to be thankful for tonight. Sleep will come easy.