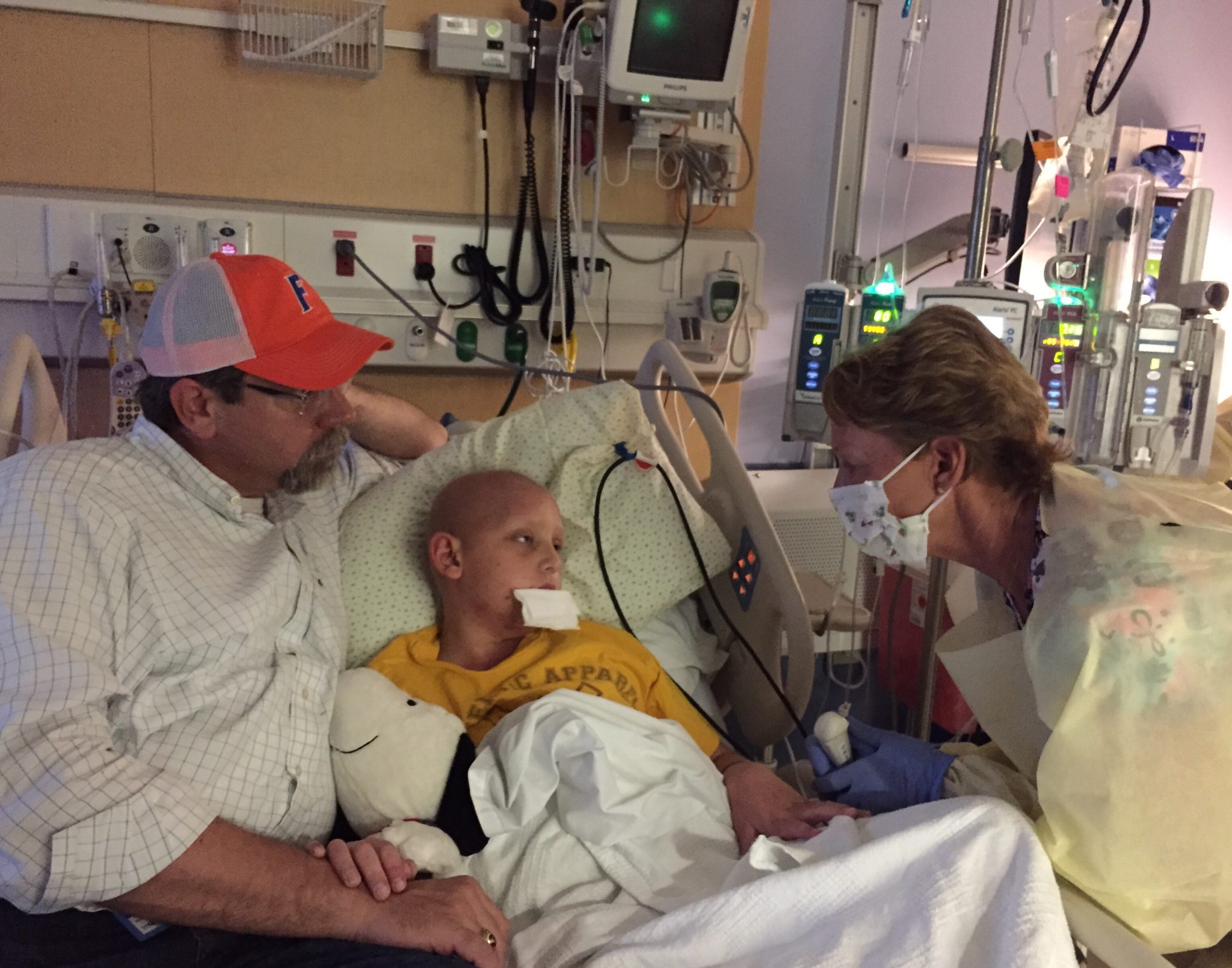 As Benji's fever rose last night, so did his discomfort. He asked for baths with desperation in his eyes. I wanted to keep him in bed, keep his temperature constant and keep his rash from getting exacerbated. We agreed to two baths throughout the night, and the rest of the time he slept. When he couldn't rest because of itching and pain, we asked the nurse for Benadryl. We also tried to stay ahead of Benji's fever with Tylenol, as frequently as it could be given. We have reached a point of desiring premedication rather than avoiding it to keep our boy comfortable.
When we woke for the morning, however, we were filled with new resolve. Benji's rash seemed to look marginally better, and he had a sparkle in his eye during his morning bath. When he got out, he asked if we could leave the room. We can't, of course, but what a good sign. He sat on the couch and watched the sunrise.
Aunt Sarah went out into the world and returned with all manner of breakfast items for Benji to try. While she was gone, I cleaned and disinfected the room, refilled the diffuser and put on some upbeat music. I gave Benji a dose of Marinol to boost his appetite and some leukemic mouthwash to numb his mouth sores. I felt sure that the corner we've been waiting patiently to turn was minutes away.
Benji gave breakfast his absolute best effort. He ate, in total, a bite of a donut, a bite of bread, a bite of applesauce, half a cucumber slice, three sips of Pediasure and a sip of broth. He couldn't do any more. And when Dr. Mayer and her team came in for rounds this morning, we could easily see why.
Benji's mouth is completely covered with mucositis on the inside. It's hard for him to speak, let alone swallow. Dr. Mayer asked to examine his bum, and sure enough, as above, so below. From stem to stern, Benji's entire gastrointestinal tract is wrecked. We also learned that his absolute neutrophil count (ANC) is down to 17. It's the lowest it's ever been. More unfortunate pieces of news from the morning rounds: Benji's platelet levels halved overnight to 64,000, and his creatinine levels have creeped back up again, to 1.96. This is surely because of all of the medicines being processed through his kidneys, including the Cefepime antibiotic, which was dose reduced as a result.
Dr. Mayer requested a third ultrasound of Benji's abdomen, a second x-ray of his chest, and a CT scan of his sinuses. He was put on an antifungal medication to more aggressively attack the thrush in his mouth, and a barrier cream to protect his bum, which she had the nurses swab for testing. She also ordered a Patient Controlled Analgesia pump (PCA) with a constant low drip of dilaudid for pain, and said that if Benji wasn't able to eat by lunch or so, she'd be putting him on Total Parenteral Nutrition (TPN).
A wheelchair came for Benji. Sarah and I put a mask on his face, a blanket on his lap, and a favorite stuffed animal in his arm and headed downstairs to imaging. The process was extremely efficient; we went from ultrasound to scan to x-ray with very little waiting, and each imaging session lasted only a few minutes. I was so grateful that there would be pain medicine waiting for Benji when we returned to the 7th floor. He was fevery and shaking. Somwhow, he is still able to find his zen in moments like this.
There were fresh sheets on Benji's bed when we returned, and two nurses worked to add the PCA to Benji's IV pole. He worked hard this morning, and once the pain medicine began, he took a long, much needed rest. I'm grateful he will have relief that also empowers him at the press of a button. Michael arrived a little while later and sat by his side, and Sarah and I rested a little too.
Benji was visited again today by the Infectious Disease doctor. He gave us some tools we could use to prevent Benji's skin from becoming infected with bacteria during this dangerous period of neutropenia. He also ordered one more swab of the nostrils to look for bacterial sinus infection.
Kathy and Gana came to visit at dinner time. They brought dinner and some supplies I'd requested. Benji woke up just before they arrived, and took a nice warm bath. When he was getting back into bed, his mouth started to bleed. It looked like some of his sores had opened after having healed a little during the long rest. The bleeding took many pieces of gauze and didn't stop for several minutes. One of the nurses said they'd do a complete blood count to see where Benji's platelet levels were. The results came back a little while later; 38,000. No transfusion needed, but I wouldn't be surprised if a bag of the golden liquid is added soon to the many bags that hang from his IV pole.
Banyan went to an after school party today and then home with a friend. I can't wait to see his face tomorrow. I know it will brighten Benji's spirits. Aunt Sarah is staying for another night, and we are well supported as always by our family, and so many friends from afar. The corner I visualized has not been turned just yet, but Benji is moving gracefully through this obstacle course. I think we will be here for weeks, not days. Benji's chemo will be delayed. This will be a slow and steady process, and that's okay.