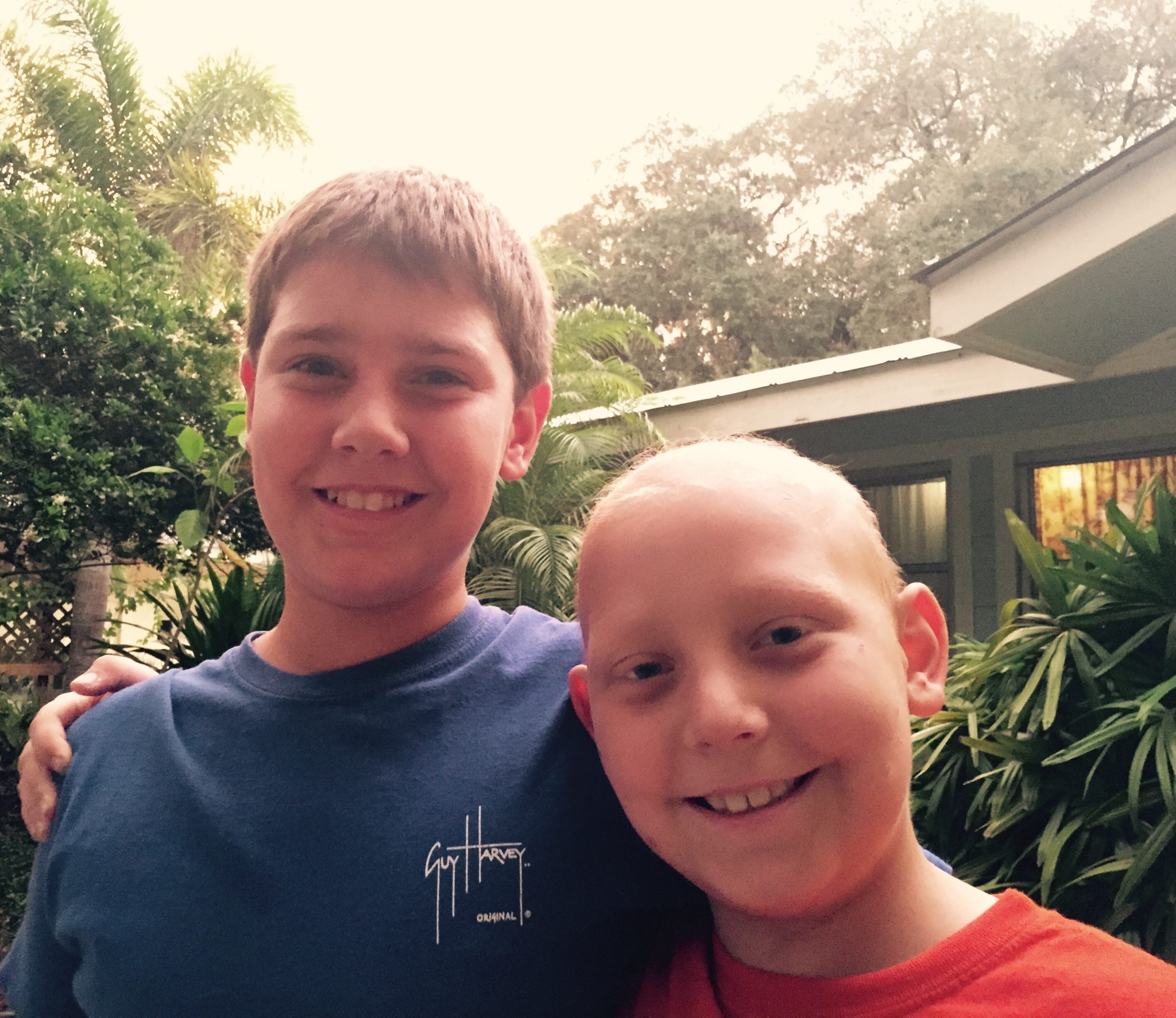 Today is officially the last day of Delayed Intensification. Once again, I've learned that nothing in leukemia (or in life) is predictable. August was not nearly as rough as we'd been led to believe, but July wasn't the walk in the park we thought it would be either. I am extremely proud and relieved to put this phase behind us. Benjamin has made it through the most dreaded phase of frontline treatment without being hospitalized, without a blood transfusion, without a single mouth sore. We have one more phase to go before long term maintenance: Interim Maintenance 2.
I made a nice big Sunday breakfast this morning. In the shower that followed, I closed my eyes and mentally prepared for this next phase. I ran through Benji's road map in my mind. If he makes counts tomorrow, he'll be getting four types of chemotherapy: he'll have a lumbar puncture with Intrathecal Methotrexate, he'll begin another round of Erwinia shots in his legs, and he'll get two intravenous medicines, Vincristine and Methotrexate. The IV Methotrexate isn't nearly as high a dosage as the first Interim Maintenance phase, so he won't have to take a rescue drug, nor will he be admitted. I remembered that during that first IM phase, we were told not to give Benji his weekend antibiotic, Septra, within 24 hours of the IV Methotrexate. No one told us to skip it this weekend or to reschedule, but we haven't seen an oncologist in over a week. I had already given him his morning dose of Septra with breakfast. I dried off and called the clinic.
Dr. Lee called back and checked Benji's protocol. He advised that we skip this evening's Septra. Even though the first dose of Methotrexate will be the lowest, it's still contraindicated with the Septra. His morning Septra was okay, Dr. Lee said, because it will have been at least 24 hours after Benji took the antibiotic before his medicines will be ready tomorrow. So, no harm, no foul. But it would have been nice for one of the oncologists to give me a heads up last week. I would have given the antibiotic Friday and Saturday. And if Benji does make counts tomorrow, and I had given his dose of Septra tonight, we would have had to turn around and come home, or jeopardize the clearance of the chemotherapy from his body–neither an attractive scenario.
Benji spent a lot of time taking batting practice with Michael today. He was hitting balls over the roof right and left. I also remembered to keep him super hydrated to help his body clear the Methotrexate tomorrow, and he was helping the cause by sweating up a storm in the August heat, taking swing after swing. The boys played together the rest of the day, and Michael's mother and sister came over for a nice Sunday dinner. It was a sweet and relaxing weekend. It was just what we needed.
Tomorrow morning, Banyan will go with Michael to his breakfast meeting and off to school, and Benji and I will leave at sunrise for the hospital. His absolute neutrophil count (ANC) will need to be 750 in order to begin Interim Maintenance 2. If he reaches this number, then I'll call Michael and he'll meet us in time for Benji's lumbar puncture. Then we'll go to the Infusion Center for Erwinia shots, and in the hour that follows, he'll get his Vincristine and Methotrexate. If he doesn't make counts, we'll come home, and depending on his immunity, he'll go to school. I'd like him to move forward, but I have no expectations. Benji's treatment schedule has had a beautiful way of working out for our family and for Benji's highest good. I trust this will continue.