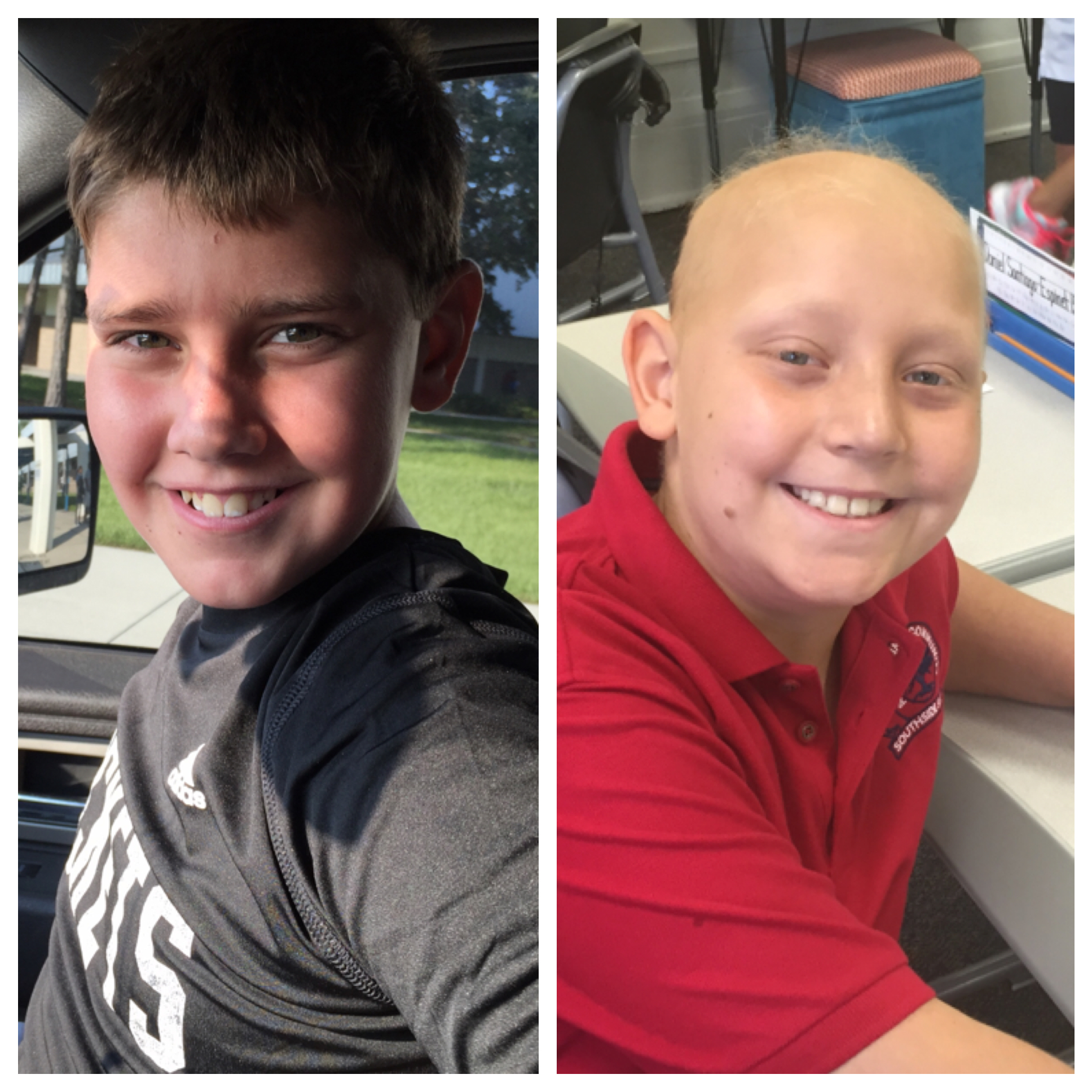 There was excitement in the air this morning. Both of our boys were up, dressed, clean, packed and completely ready to go to school before the sun came up. After the obligatory first day pictures were taken, Michael brought Banyan with him to his Monday morning breakfast meeting, then on to his first day of (gulp) middle school. I walked Benji into his brand new classroom. He was so eager to be there, not a bit nervous. I left him without a hint of reservation.
An hour later, I signed Benji out of school–he was the first early dismissal of the school year–and we drove north. I pulled over before we got on the Skyway to put numbing cream and dressing on his port. When I did, I noticed I had transferred things out of one bag and into another, and in so doing I left Benji's essential oils at home. They've become so important to him. Guilt like that is hard to overcome, but I did my best.
When Benji's nurse came in to access him, he had a big decision to make. We talked again about the pros and cons of staying accessed all week versus getting accessed each time he comes in for treatment. Today, his answer came easy. He wanted to be deaccessed. I knew that the prospect of a full day at school tomorrow, unencumbered, gave him the clarity he needed. I cleared this decision with Dr. Grana, who agreed that the risk of infection was essentially equivalent in each scenario.
With Benji's decision made, his port was accessed and flushed, and his blood was drawn. I told him I had every confidence that he could make it through today's flushes without the oils, and he did; he was amazing. Benji's nurse was quite familiar with his aversion to the flushes, so she skipped one of them altogether, and didn't heparinize his port before sending us to the Infusion Center. I questioned these decisions. I've never seen a nurse skip these steps before. I felt a little brushed off, but the validity of my questions were reinforced by the Infusion Center nurses. I appreciate every single act of compassion toward Benjamin, and every measure to make him more comfortable; but never at the expense of his safety. Clean lines prevent infection, heparin prevents clotting. I'm not a nurse, but these things are clearly considered best practice. Another lesson learned.
Benji's blood results came back and I was elated. His platelets have skyrocketed back up to a totally normal 399,000, and his hemoglobin is also back on the rise. Most significantly, his absolute neutrophil count (ANC) is 588. He's neutropenic, but not severely so. I can cautiously say, here in this last week of Delayed Intensification, that we have escaped this phase without a transfusion. His nadir period is over. And if Benji can avoid a fever, we'll escape hospitalization as well. This feels huge to me.
Once we were in the Infusion Center, Benjamin's behavior started to deteriorate. Michael and I have been putting our heads together about this a lot lately. We fully understand our boy's need for control, and we want to respect that. But it's time to reinforce the boundaries that have crumbled a little over the past eight months. The beginning of a new school year is a great time to do that. For fifteen minutes on a timer today, Benji sat without games, without electronics, without television. It felt like an eternity to him, but he got it. It is really, really hard to discipline a child when he's waiting for chemotherapy, but we won't be doing him any favors by allowing or enabling disrespect. Michael and I are trying to keep the big picture in mind.
When Benji did get his shots, they hurt more than usual. Tears came today for the first time in weeks. I held him close as we took our laps, dreading the fact that he has to go through this fourteen more times, with shots in both legs each time. If the pain gets worse, we know we have an alternative. I'm hoping, like the last phase, that his Jedi mind tricks will reach a new level as the shots continue.
One of our clinic nurses came into the Infusion Center during our hour wait that followed. She presented me with Benji's entire schedule for the next two months, complete with appointment times. This has never happened before, and it made me want to cry–it means we are really on the home stretch of front line treatment. For the first time, we have a date on the calendar that we can look toward, when Benji will enter long term maintenance. He just has the rest of this week and one last two month phase ahead of him, then it's much smoother sailing for the next three years.
Benji received intravenous Kytril and his last dose of Vincristine for this phase while we waited. We downloaded the film version of The Witches, our latest Roald Dahl completion, and got through the first half or so; it was quite good. It was time for Benji to be deaccessed. I could tell he was very pleased with his decision. He hardly seemed to mind the heparin this time, even without the oils. We left at exactly the time I'd estimated we should leave in order to make it to Banyan's new school to pick him up on his first day.
Until…
I got pulled over by a State Trooper on the way home. I got a ticket for going 82 mph on the highway. I guess this was the catalyst I needed for a big, ugly cry on the ride home. I just felt so guilty–guilty for wasting money on a speeding ticket, guilty that I may not get home to Banyan in time, guilty that I had forgotten Benji's oils…guilty even in the face of logic. Benji was so compassionate. I was over it quickly. It kind of worked to rearrange my brain. I can't control everything. I can't be everywhere I want to be, all at the same time. I need to just be where I am.
We did end up making it to Banyan's school in plenty of time to pick him up on his first day, and absorb his huge excitement. He loves middle school. I think he feels emboldened by the independence of changing classes, of feeling like he has worked hard to belong in this program, and of having a place and people that are all his own. This is his domain. I'm so excited for him.
For the next half hour in the car, Banyan and Benji talked non stop. Both of them had so much news to share. They are both so happy. I look at Benji's treatment calendar and match it up with the boys' school calendars and I know we have a big challenge ahead. But they are happy. Tomorrow, they will both go to school for a full day. This is something we used to take for granted; it is now something for which we are deeply grateful. One day at a time.