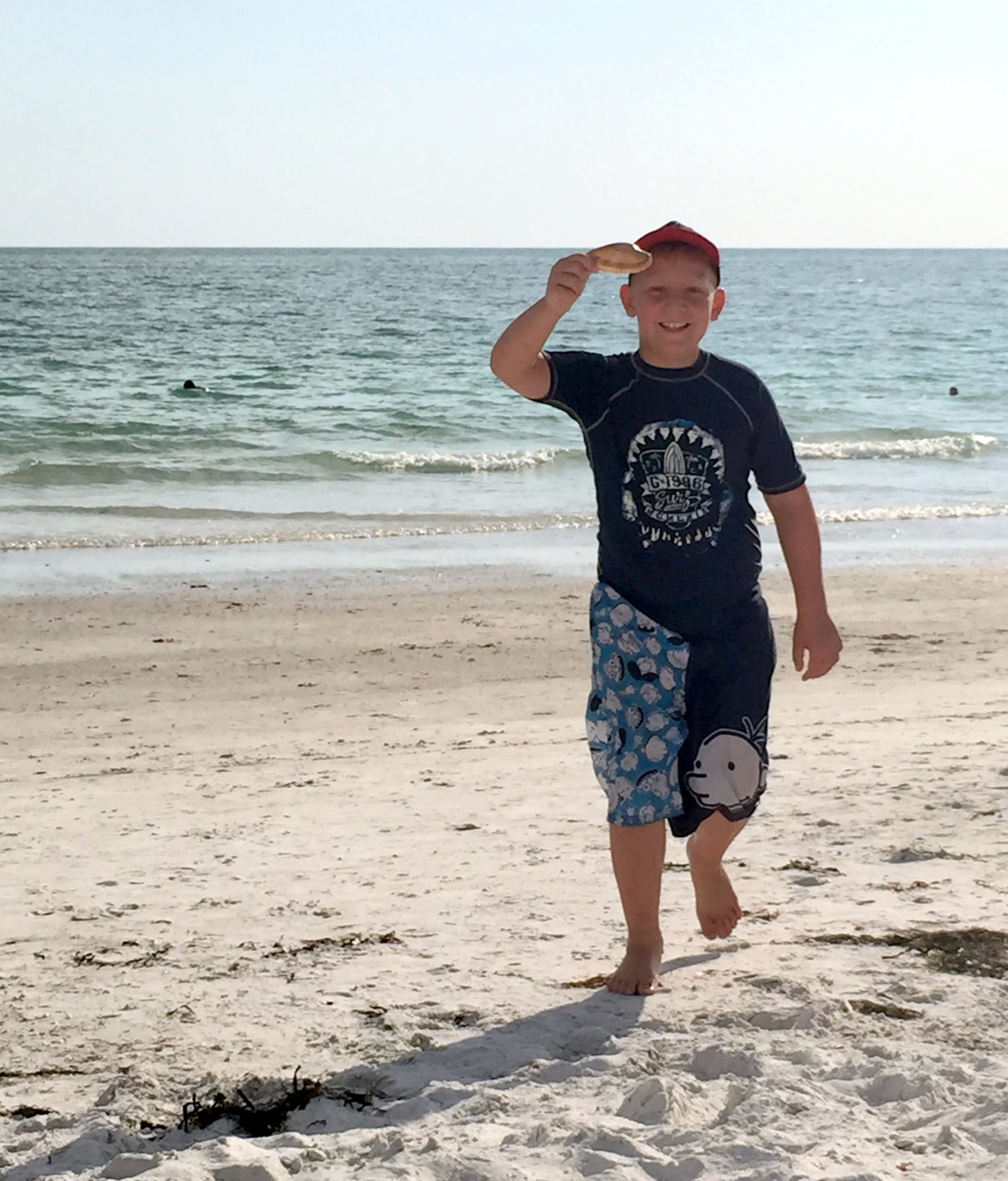 The anticipation of tomorrow's hospital admission was an ever-present force in my mind today. It formed my first conscious thought of the morning (When should I put Benjamin's Scopolomine patch on? Tonight? Tomorrow morning?), and was responsible for many other internal questions, most of which I couldn't answer. It was present for Michael as well; he made it a high priority to be sure Benjamin stayed well hydrated today.  It did not, however, keep us from enjoying our home, our family, and each other.
Banyan went from one eleven year old boy's birthday party to another today, stopping only for a couple of hours at home. Kathy and Gana brought a delicious Sunday lunch for us to enjoy. Over bratwurst and pasta salad we discussed the coming days, and they helped us make sure Banyan's needs would be met while Benjamin and I were in the hospital, and Michael was splitting time between All Children's and a busy work week. I'm so grateful for those two women. They have helped us navigate these new waters in so many ways, big and small.
With Banyan at his second birthday party and Michael and Benjamin at the hardware store, I set to packing. With every stay, I feel more prepared, and my list gets more streamlined. This is what will be coming over the bridge with us tomorrow morning:
Hospital Bag

The Binder
Transparent dressing
Numbing cream
Alcohol Pads
Scopolomine patches
Kytril
Hand sanitizer
Sanitizing wipes
Rescue Remedy
Emergen-C
Ibuprofen
Olive leaf
Milk Thistle
Red Clover
Glutamine
Aloe

Kitchen Bags

Nespresso machine and pods
Proper coffee cups
Tea bags
Snacks (Fruit, bars, granola, rice cakes, nuts, nut butter)
Cooler (Jelly, bread, cut veggies, cut fruit)
Water
Sparkling water
Gatorade
Grape juice

Comfort Bags

Comfortable clothes for three days and nights
Remission Scarf
Toiletries (Face washing wipes, Biotene, homemade mouthwash)
Glad Press 'n Seal (For Benji's baths)
Yoga mat
Werthers Originals
Ginger chews
Tablets
Phones
Chargers
Books (The BFG, Woof for him; We Are Called to Rise, Childhood Leukemia for me)
Activities (mandala book, card games, Legos, books, paper, markers, origami)
Thank you cards
Schoolwork
Power animals
Lavender oil
Rosewater
Rainbow maker
Blanket
Pillow
Stuffed animals
I packed as many of these items as I could before Michael and Benjamin returned. I wasn't finished–I still needed to make a grocery store run–but Benjamin had said he wanted to get into some water before our hospital stay, and I wasn't going to deny him. We threw on our suits and headed to Lido for a quick visit. The water was the perfect temperature. We soaked it into our skin. Benjamin found sea urchins and pufferfish, Michael found more rocks for his collection, and I found myself marveling at my son's ability to be so purely and genuinely happy.
A storm was rolling in from the east. The clouds were huge and billowing and yellow gray. A bright rainbow formed behind us, right inside those clouds. Benjamin spotted it first. He asked, "Have you ever seen a rainbow inside the clouds like that?" Michael and I looked at each other and laughed. "Yep. We see them all the time."